Share Your Vision for Public Education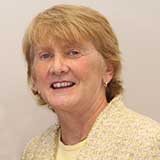 Barbara Madeloni, President

---
Greetings and Happy New Year!
As 2018 begins, we at the MTA have a wonderful opportunity to play a crucial role - not only in preserving public education and public-sector unions, but also in establishing a vision for both. Our efforts to reach out to one another and build union power through the All In campaign will shape the union for years. Passage of the Fair Share Amendment in November will be a profound victory for students and public education in Massachusetts - and for our organizing efforts.
Our Vision for Public Education at All Levels
In the months ahead, we will be asking you in a variety of venues to envision how we, as educators, will want the revenue from Fair Share to be spent for public education. Fully stocked libraries with certified librarians in every school? Smaller class sizes? Art and music available to every student? Equity for adjunct faculty? This is our vision to name and win. Start the conversations now and get ready for future actions.
Wear Red for Public Ed on Valentine's Day
As part of the effort to share our vision, we will be producing and distributing stickers for Valentine's Day with the themes of "We love our public schools" and "We love our public colleges." We ask you to wear red that day, put on the stickers and share photos of yourselves taking part in the action. Other activities could include asking members to identify and share what they love about their schools and colleges and what more they could do for students with better funding. More information on this subject will be coming soon.
Sign Up to Defend the Fair Share Amendment
While we are organizing to win Fair Share in November, the one-percenters are trying to use the courts to silence our voices and bar the amendment from the ballot. Sign this petition to let the corporatists know that we demand our opportunity to vote on this amendment. We know that when the wealthy pay their fair share, students win.
National Black Lives Matter Week of Action for Educators
As part of our vision for public education, the MTA is committed to the well-being of students and their families and the struggle for racial and economic justice. From February 5-9, we will have a chance to join educators across the country in speaking out for students and communities of color. A national call has gone out to demand a stop to racist testing regimes and the school-to-prison pipeline - and to fight for equitable funding and respect for students of color and their families. Click here for more information and here for information on a Jan. 15 webinar on culturally relevant pedagogy, led by Dr. Molefi Kete Asante.
Another Dark Money Scandal from Pro-Charter Group
I've always been both amused and shocked that the privatizing charter supporters, who claim to be doing good, want to conceal their contributions to campaigns to increase the number of charters. Last fall we learned that Families for Excellent Schools - Advocacy, one of the organizations behind the attempt to blow up the cap on charters, was assessed a fine of more than $425,000 for concealing the identity of campaign funders. Now we start the new year with another fine against yet another group - Strong Economy for Growth - that supported the Yes on 2 campaign. This group, many of whose donors are connected to Governor Charlie Baker, also violated campaign regulations by concealing the identity of its funders. Charter supporters played dirty - and we still won big. Keep that in mind in the struggles ahead.
Solidarity,
Barbara