Equal Pay for Equal Work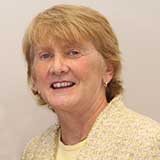 Barbara Madeloni, President

---
Greetings,
It has been an exciting week of organizing for locals across the Commonwealth. I ended last week joining MTA members from the UMass campuses — and sisters and brothers from the UAW and AFT on those campuses — in speaking out at the Board of Trustees meeting to demand fair contracts. And then I began this week joining adjuncts from community colleges as they spoke to the Board of Higher Education calling for equal pay for equal work.
It is always inspiring to listen as union members speak truth to power in these forums, but I want to give a special shoutout to Diana Yohe, president of the Massachusetts Community College Council, for her speech to the Board of Higher Education.
While MCCC Vice President Jeff Seideman passed out envelopes that had a picture of a cow printed on one side, Diana explained that the continuing education courses in the community college system have been described by management as a "cash cow." Diana then asked board members to turn the envelopes over to do some "back-of-the-envelope" calculations. Talking them through numbers such as students per class, revenue per student and cost per adjunct, she revealed that the community colleges could meet the demands of the bargaining team and still generate $147 million in revenues.
In addition to providing a brilliant and clear presentation of the facts, Diana, like any great educator, created an opportunity for the board members to discover the information themselves as all but two dutifully filled out the back of the envelopes in front of them. This was a great speech: clear, concise and clever. This was a fine example of the fun of organizing: Those of us there supporting the MCCC were grinning from ear to ear.
Attleboro Paraeducators Demand Raises
Meanwhile, paraeducators in Attleboro are exploding with power as they are mobilizing around contract demands. After 103 members of the 119-member unit signed a letter demanding real raises in their contract, 53 members showed up at a School Committee meeting on Monday dressed in unity T-shirts and wearing All In buttons to deliver their message. These paras have made it clear they will not accept someone else's idea of what makes for a fair offer.
Wachusett Educators Begin Work to Rule
And then there is the Wachusett Regional Education Association, which engaged in work-to-rule activities this week. The members also have been showing up in large numbers at School Committee meetings and reaching out to the community for support.
'Backpack Full of Cash' a Hit in Amherst
More than 60 people — MTA members, community residents and local School Committee members — watched the movie "Backpack Full of Cash" in Amherst last week. If your local or region is interested in showing this excellent movie on school privatization, followed by a community conversation about the issues it raises, please contact Ari Mercado by clicking here.
Meanwhile, if you are in the Arlington area, mark your calendar for a screening of the movie on Jan. 8. Go here to reserve a seat.
Protest Detention of Social Justice Activist
For those of you in the Boston area, please come to a meeting on Thursday, Dec. 14, from 7 to 9 p.m. at the Community Church of Boston to protest the detention of Siham Byah. As described in this post, she is "a single mother and outspoken activist for social justice who has been in the U.S. since 1999. If deported, she may face cruel separation from her 8-year-old son, and potential detention, imprisonment, or even death in Morocco as punishment for her opposition to the Moroccan government and support for activist movements and political prisoners in Morocco."
This is what All In looks like. Well done. Keep at it. Send me your stories so we can learn from them and inspire one another.
Solidarity,
Barbara