Thousands rally for public education
---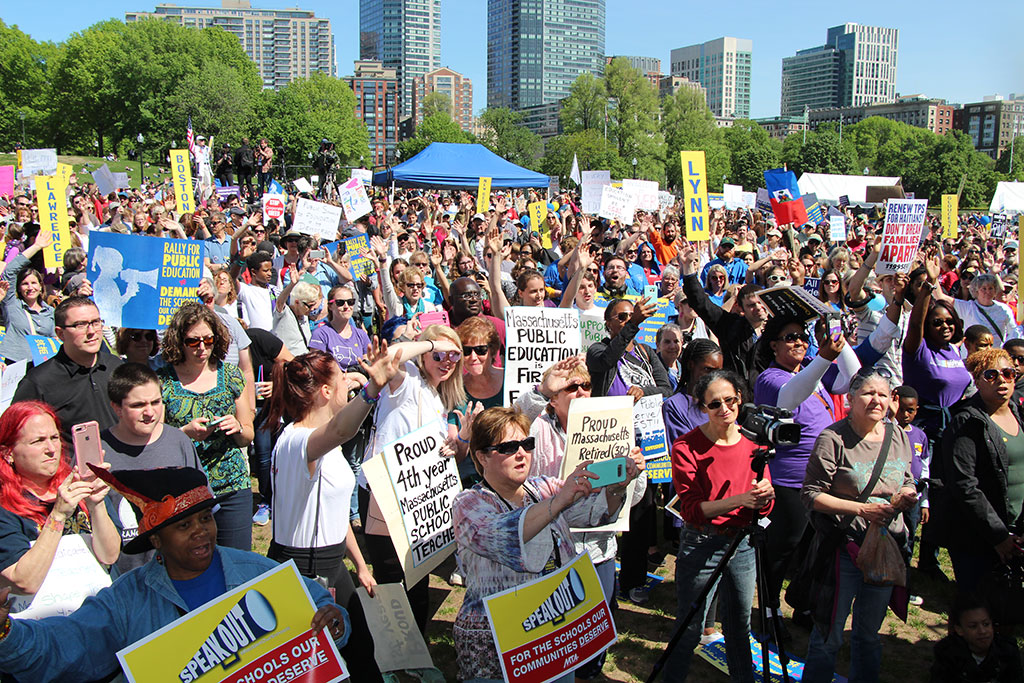 The call-and-response chant "Whose schools? Our schools!" reverberated off the stores and offices lining Boylston Street on May 20 as hundreds of delegates from MTA's Annual Meeting marched down the middle of the busy thoroughfare toward a Rally for Public Education on the Boston Common.
They marched to the raucous sounds of a New Orleans-style brass band, which had led delegates out of the Hynes Convention Center and onto the street.
The marchers poured into the Common at around 3 p.m., bringing cheers from the gathered crowd of thousands of students, parents, educators and social justice activists. The rally, held under blue skies and made festive with balloons, banners and signs, featured musical acts — mainly by public school students — as well as speeches.
The MTA was a major supporter of the event, which was sponsored by the Massachusetts Education Justice Alliance, a coalition of groups that promote quality public education for all and social and economic justice. Speakers demanded full funding for public education, debt-free public higher education, less testing and more learning, and equitable access to quality education for all students.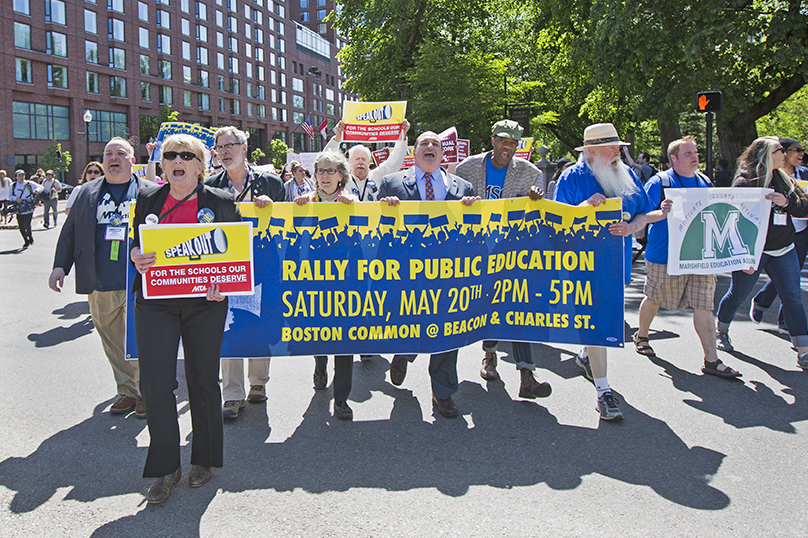 MTA President Barbara Madeloni received loud applause when she said, "People in Massachusetts deeply value public education and they deeply value the public good. When we are defending our public schools, we are defending our vision for a better world."
Fiery speeches throughout the afternoon attacked the education policies of President Donald Trump, U.S. Secretary of Education Betsy DeVos, Governor Charlie Baker and Massachusetts Secretary of Education James Peyser.
Tom Gosnell, president of the American Federation of Teachers Massachusetts, called for and received loud boos when he held up a large poster of the head of DeVos, the billionaire appointed by Trump to promote school privatization.
The rally came just three days after details about Trump's budget were leaked to The Washington Post, revealing his intention to cut $10.7 billion in public education funding — including slashing student mental health services and advanced coursework, slicing college work-study programs in half and reducing the public-service loan forgiveness program. Money from these cuts would go to expanding charter schools and providing vouchers for students who attend private and religious schools.
Rally speakers talked extensively about their very different vision for public schools. Saul Ramos, the national Education Support Professional of the Year, focused in part on the need to pay ESPs a living wage.
"I love my job," said Ramos, who works with visually impaired students in Worcester. "Yet many ESPs have to work one or two other jobs just to survive because our role in public education is unfortunately undervalued.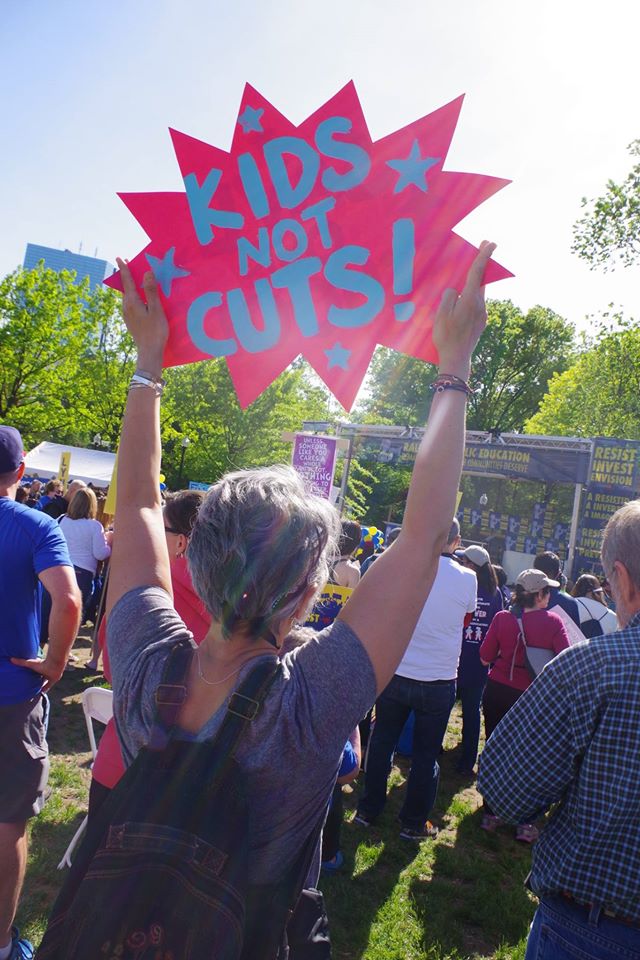 "There have been times in my own career when I did not have enough money to make ends meet," he continued. "At one point I was even homeless for two months, yet I still worked full time and showed up at school ready to work every day.
"It is time that ESPs get the respect that they deserve and are paid what they are truly worth," Ramos added. He also called for support for the Fight for $15 to help win fair pay for all workers.
A pro-union message was also delivered when the marchers walked past striking AT&T workers on Boylston Street, giving them high-fives and chanting, "The workers, united, will never be defeated."
Supporting public higher education and college students was also a key theme of the day. Tom Goodkind, president of the Professional Staff Union at UMass Boston, spoke about the damage caused by decades of disinvestment in the only public four-year university in the city.
Goodkind concluded his remarks by saying, "We are the guardians of our increasingly fragile democracy, the defenders of equality, and the only true representatives of current and future generations of working-class students of every race and ethnicity who will demand what the freed slaves demanded after the Civil War: free and universal public education."
Several speakers talked of the impact that budget cuts are having on public schools. Kim Gibson, president of the Brockton Education Association, told the crowd about Brockton's model bilingual education program and her community's long history of success in educating low-income urban students.
Instead of being rewarded, she said, Brockton has been "punished' by lack of funding caused in part by the state's failure to appropriately update the school funding formula and in part because a new charter school is siphoning millions of dollars from the district.
"We are facing the prospect of losing 140 teachers and 200 support staff," she said.
Jessica Tang, who is running to be the next president of the Boston Teachers Union, said that last November's defeat of Question 2 shows that Massachusetts residents reject the privatization agenda. "We don't believe in robbing Peter to pay Paul," she said.
Tang added, "The solution will come from us — not from millionaires and billionaires who have not taught a day of their lives and who do not send their own kids to public schools."
Though many of the speakers attacked bad policies, equal weight was given to promoting a positive agenda for public education and for communities retaking control of their public schools. One chant called for "Less testing. More learning" and another for "recess and play and art every day."
Photos of the Rally for Public Education are posted on the MTA's Flickr page.