Awards, wide array of business at 172nd MTA Annual Meeting
---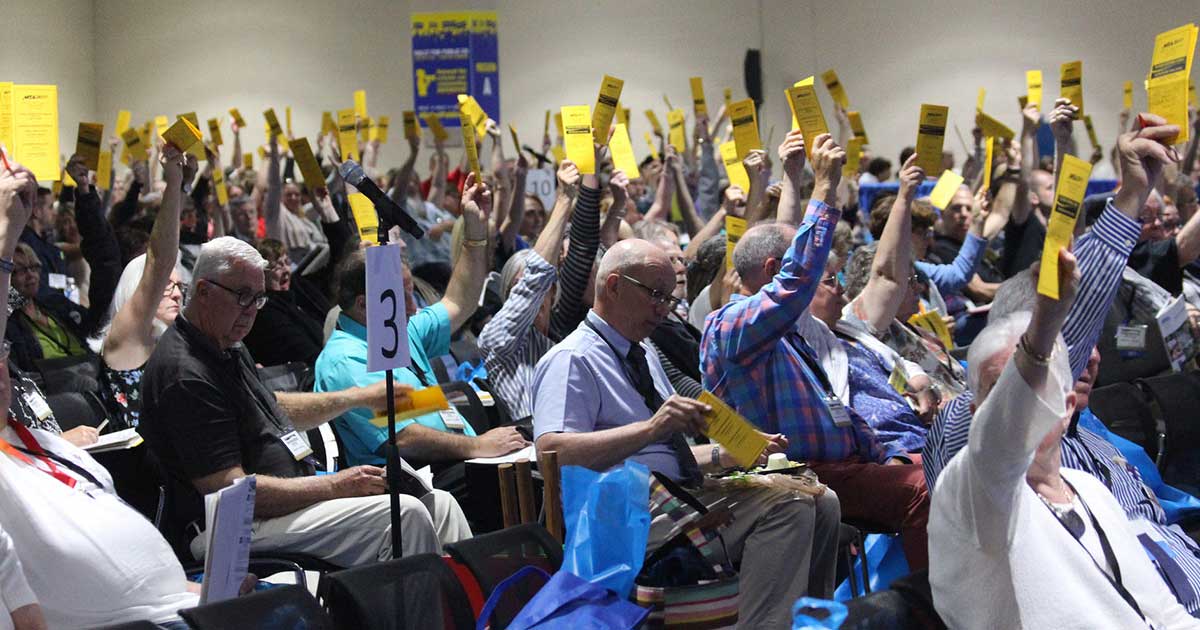 MTA members honored three individuals for their commitment to social justice, labor and public education during the association's 172nd Annual Meeting of Delegates, which was held May 19 and 20 at the Hynes Convention Center in Boston.
The 1,280 registered delegates, representing more than 110,000 members across Massachusetts, also conducted a wide array of association business before hundreds of them marched down Boylston Street to the Boston Common to attend a Rally for Public Education sponsored by the Massachusetts Education Justice Alliance, of which the MTA is a key member.
The delegates filled positions on the Board of Directors, the Executive Committee and the Retired Members Committee; debated and voted on proposed changes to the association's bylaws, standing rules and resolutions; acted on a number of new business items; and passed the operating and Public Relations/Organizing Campaign budgets for the next fiscal year.
Click here for 2017 Annual Meeting election results.
In her leadership report to the delegates, MTA President Barbara Madeloni said that difficult times are ahead for public education. But she reminded the delegates that a year ago, as the charter school expansion threat loomed large as the result of a ballot initiative, "you chose courage."
She said the result of all the conversations that members had with voters was a landslide win for the No on Question 2 campaign and a reaffirmation by voters that public education is something to cherish.
"This is our work," she said. "Connecting at the local level, building up power at the worksite, and then joining together in statewide initiatives. This is how we will win."
In his leadership report, Vice President Erik J. Champy said that he has found the past year "very reaffirming." He pointed out the number of ways that members serve the organization, and he recognized local association presidents, calling them "the backbone of our association."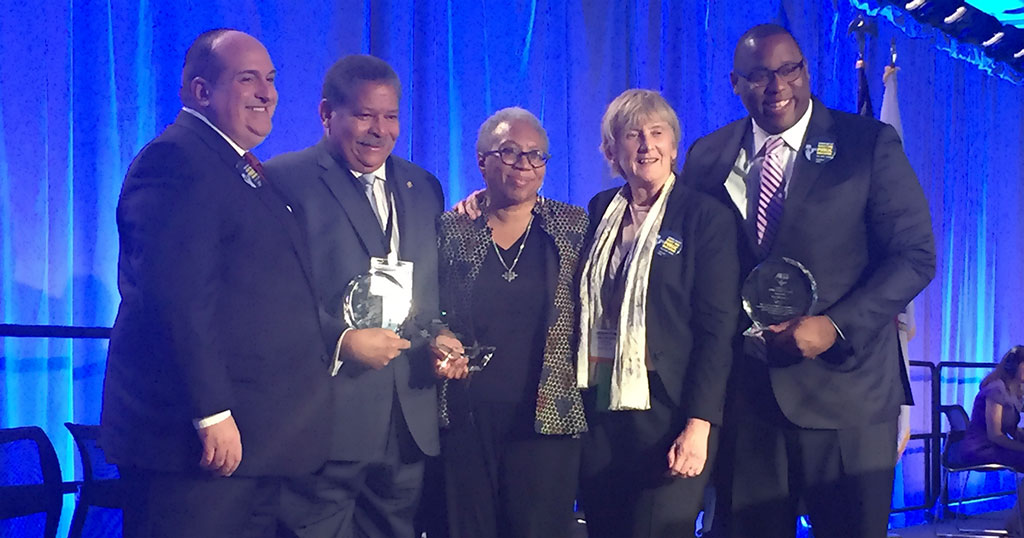 Addressing the delegates, Champy said, "You have reminded me why I entered this profession and became an active member of our union. Your commitment and advocacy continue to be so inspiring. I would like to thank all MTA members for making our union stronger."
The MTA Friend of Labor award was presented to Juan Cofield, president of the New England Area Conference of the NAACP. Cofield was a tireless advocate during the campaign against Question 2.
Cofield told the delegates that the NAACP was delighted to work in collaboration with the MTA against the charter school expansion campaign, adding that the partnership "shone a light on what we can do, what change we can make, when we work in coalition."
The MTA Friend of Education award was presented to Boston City Councilor Tito Jackson, who told the delegates that he grew up in a family that was committed to education and social activism. He said he accepted his award on behalf of his mother, an educator for more than 25 years; his father, a union activist; and the many teachers "who educated, inspired and spoke life into me."
"You matter, and you make a difference in the lives of children every day," he said. "I know you matter, the young people in the classrooms know that you matter, and parents know that you matter. And that's why we were able to beat back the charter school legislation and No on 2 won the day."
The President's Award was presented to social activist Donna Bivens, who most recently was director of the Union of Minority Neighborhoods' oral history project on busing and desegregation in Boston.
Bivens said she was especially touched to be recognized by educators "because it is an affirmation of what I have been doing since I first came to the struggle for public education. How appropriate to be recognized by educators for doing that."
Working on the Boston busing/desegregation project allowed her and others to "listen, learn, synthesize and share what we learned" with people of different viewpoints and generations, she said. "It is educators who stand at that intersection, looking back and looking ahead — making a way for all of us to go forward together," she added.
An issues forum on Friday dealt with the struggles of adjunct faculty members on public college campuses and the schools our communities deserve.
The delegates heard from John Hess, vice president of the UMass Boston Faculty Staff Union, and Sandra Howland, a member of the Massachusetts Community College Council who has worked as an adjunct faculty member at UMass Boston and North Shore Community College for more than 26 years.
Hess pointed out the similarities between the struggles of adjunct and non-tenure-track faculty and education support professionals around the state. "We share so much in common with the ESPs," he said. "We are with you."
He also spoke about the gains that adjunct and non-tenure-track faculty have made since they began a long period of deep organizing at UMass over the past two decades. "This is the standard we want for all non-tenure track faculty," he said, noting that organizers view their gains so far only as "a resting point."
Howland said that she and her fellow adjuncts "love teaching, but we community college adjuncts have no health benefits or pensions, and we don't earn Social Security for the courses we teach." Many adjuncts are on public assistance and have had bouts of homelessness, she said. "We are committed, we're qualified, and we're vetted on the job," she said. "Join with us, please," she implored the delegates, "so we can fight this together."
The delegates were given a document to read and comment on concerning the effort to create the schools our communities deserve.
Also on Friday, three AT&T employees were invited to the stage to announce that they and more than 20,000 co-workers across the country had gone on strike that afternoon.
Communications Workers of America Local 1298 member Kevon Stamper said the short-term strike was called to protest the fact that AT&T has been highly profitable while cutting employee pay, benefits and jobs.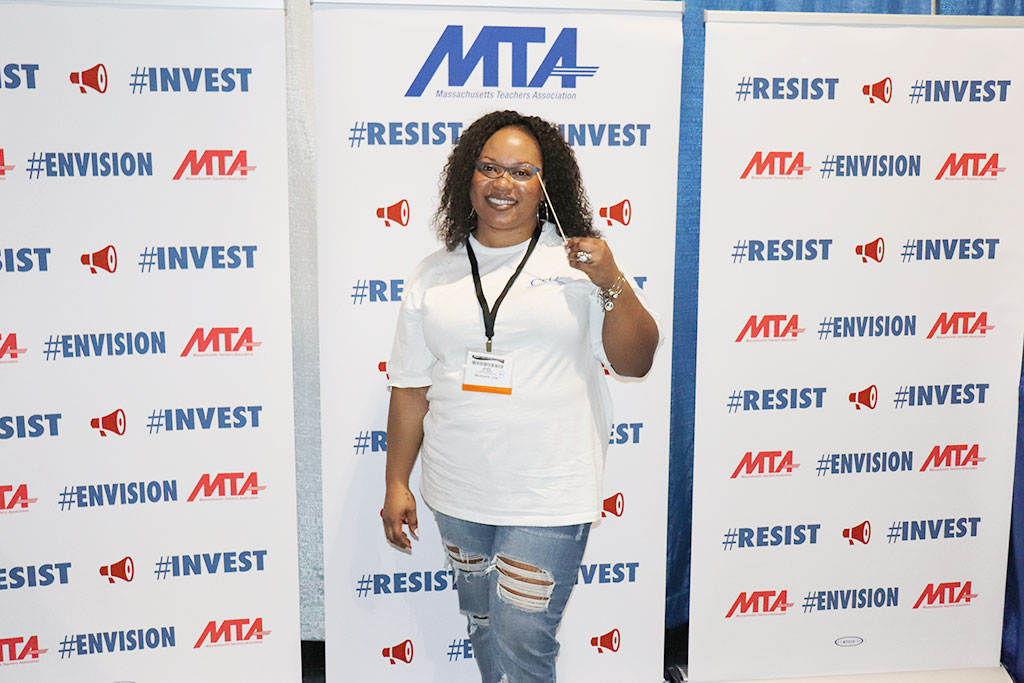 The delegates cheered the workers on stage, and MTA delegates cheered the striking workers again on Saturday as they marched pass the AT&T store on Boylston Street.
The delegates adopted a number of new business items.
They included NBIs endorsing legislation that calls on the Massachusetts Pension Reserves Investment Trust to divest from existing holdings in thermal coal and to cease any new investment in thermal coal companies; supporting a bill that would ensure that schools electing to teach sex education use a curriculum that is medically accurate, age appropriate and truly comprehensive; and opposing the MAPLE/LearnLaunch partnership with the Massachusetts Department of Elementary and Secondary Education on the grounds that it reflects a predetermined plan to impose a new, untested "personalized" oversight system on the public schools.
Tim Collins, who is retiring as president of the Springfield Education Association after a long career, received a standing ovation from the crowd after successfully sponsoring two NBIs demanding adequate funding for the state's public schools.
In addition, the delegates passed an operating budget of $47,486,674 for the next fiscal year, as well as a Public Relations/Organizing Campaign budget of $1,760,000. The two budgets combined reflect no increase or decrease from last year in total dues per member.