MTA Union News: 56 Days Until Fair Share Vote
---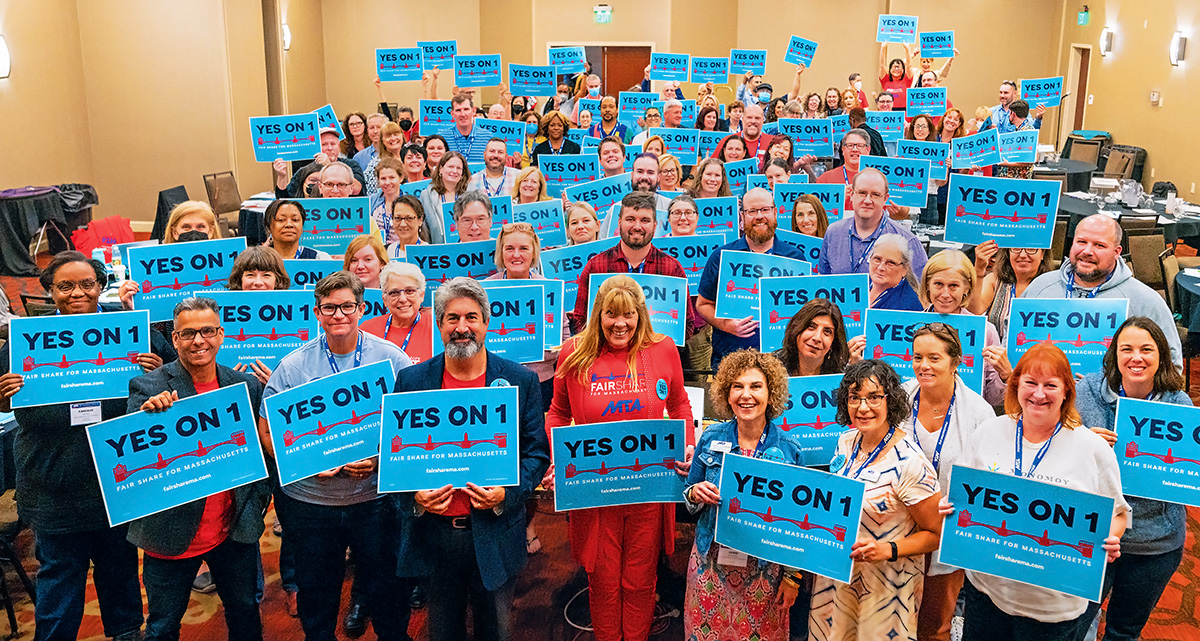 56 days.
That's how long it is until Election Day, Nov. 8, when we will vote on the Fair Share Amendment — Question 1. This is a campaign we must win so we can build a fairer tax system and win $2 billion every single year for our public schools, colleges and transportation systems. On Saturday, more than 100 MTA local leaders and activists gathered at the All Presidents' Meeting to plan for a wave of local events so that we can get the word out to our families and communities to vote YES ON 1.
Deb and I were at the Melrose Victorian Fair on Sunday with Melrose Education Association members, and we'll be at Fair Share Amendment tables at events in Arlington, Brookline, Waltham and Burlington next weekend. Join us! Your local is likely organizing a door-to-door canvass or phone bank in the coming weeks. Please sign up! And if you want, sign up on your own for any of the events organized by the Fair Share Amendment campaign.
And if you haven't seen them while watching your favorite television shows or visiting your favorite social media sites, check out the latest ads featuring two of our members, teacher Cynthia Roy and MTA ESP of the Year Naomi Akan.
MTA Events
Calling all higher ed members! On Sept. 22 at UMass Boston (and on Zoom), MTA higher ed members will be leading a public forum on the core issues of pay, benefits, working conditions and student success programs in our public colleges and universities. Learn the details here.
MTA Retired Members, please join us for MTA's 2022 Retired Members Gathering, which is being held Sept. 29 at the DoubleTree by Hilton in Westborough. Register today.
MTA PDP Courses return online this fall! Choose from six different courses in which you can earn 15 PDPs toward either English as a Second Language/Sheltered English Immersion or special education requirements for renewing your professional license. All courses are FREE for MTA members. Registration will open at 4 p.m. on Friday, Sept. 16. Check back at massteacher.org/pdps for updates.
For members with educator licensure questions or concerns, the MTA has plans to run "Basics for Professional and Initial Licensure" and "Renewing Your Professional License" programs beginning this fall, with additional sessions throughout the year. Stay tuned!
Political Education
Here's what happens when the state disinvests in public higher education: The campuses take out big loans to repair old buildings and build new ones. Now they have to pay off millions of dollars in yearly interest. What to do? Raise tuition and fees, of course! And the students? They take on more debt. Check out this article about how capital debt leads to student debt.
And watch for publicity in the days ahead about an important report being released by a coalition of our own public higher education members and some of their students.
Read previous MTA Union News issues.
In solidarity,
Max and Deb