Great to Be at Summer Conference
---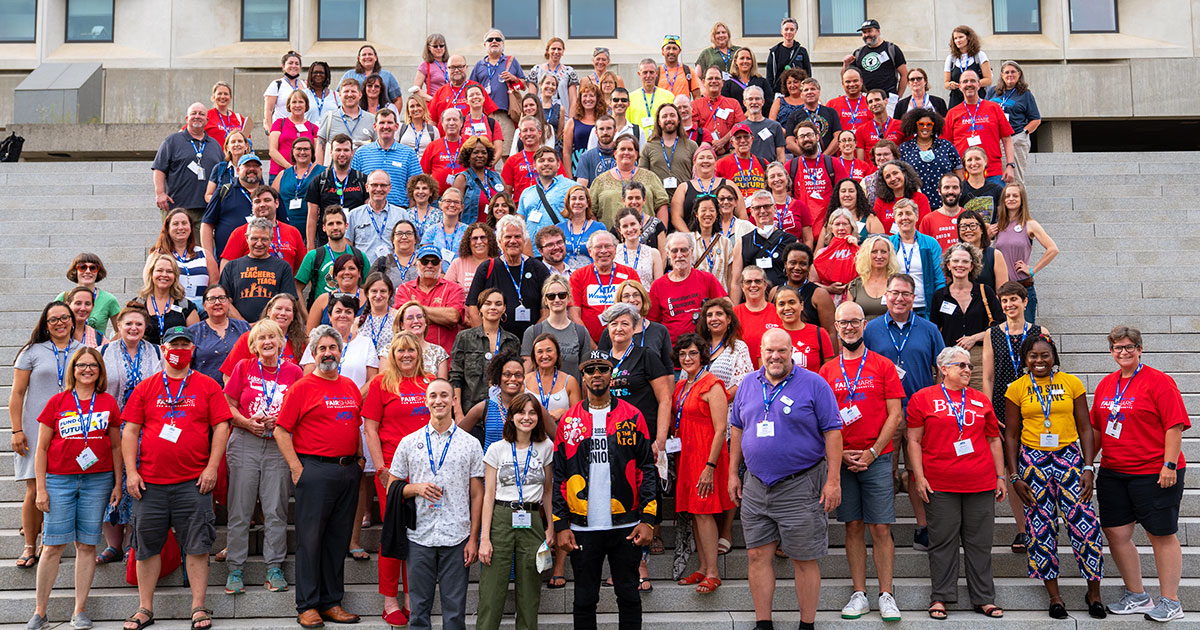 From MTA President Max Page and Vice President Deb McCarthy
Greetings, MTA members!
We are both thrilled to be here at the MTA's 2022 Summer Conference at UMass Amherst along with some 300 fellow union activists.
It has been just so good to be back in person for the conference — learning together, talking over dinner in the outstanding UMass dining halls, enjoying the dance parties and building up our solidarity for the coming year.
Check out the livestream of Sunday's inspiring conversation with Chris Smalls, president of the Amazon Labor Union, and Kylah Clay and Tyler Daguerre, leaders in Starbucks Workers United-Boston. They shared their experiences in building rank-and-file unions from the ground up — in the process defeating some of the wealthiest individuals and corporations in the country.
MTA Events
Mark your calendars: Local presidents are invited to the All Presidents' Meeting on Saturday morning, Sept. 10, along with activists in their local they'd like to invite. (Write to your local president if you'd like to attend.) The location will be the Courtyard by Marriott in Marlborough. This meeting will be a kickoff for our sprint to victory in the Fair Share Amendment campaign. We hope that every single local will take on at least one door-to-door canvass or evening of phone banking. Get Involved in Fair Share - Yes On 1.
Solidarity Actions and Big Victories
As promised last week, we want to share another example of a great victory. In just two contract cycles, the Somerville Educators Union has won an increase in starting pay for paraprofessionals from $17,000 to $35,000. And that's not all. Check out what else was won through collective action.
And don't forget about being a silent representative in support of the Malden Education Association on Aug. 10 at 1:30 p.m. as MEA members return to the bargaining table. Spend an hour in solidarity and leave happier than when you arrived!
"Having no other mines to work, Massachusetts has mined into the human intellect."

Horace Mann
Political Education
Heard Monday morning, as Chris Smalls spoke at the New Presidents Academy track at the Summer Conference about fighting growing wealth inequality: "They might give us an inch, but they take a mile."
And I'll end with a favorite quote. This is one from Horace Mann, secretary to the Massachusetts Board of Education and one of the leaders in the movement for universal public education, in his 1846 Annual Report:
"Having no other mines to work, Massachusetts has mined into the human intellect; and, from its limitless resources, she has won more sustaining and enduring prosperity and happiness than if she had been founded on a stratification of silver and gold, reaching deeper down than geology has yet penetrated."
The full report from which this is drawn is well worth your time!
In solidarity,
Max and Deb