Immediate action needed to protect schools amid failures by DESE, Baker Administration
---
Inadequate and incompetent actions in recent days by Governor Charlie Baker and state Education Commissioner Jeffrey Riley have played a role in worsening a public health crisis in our school communities, threatening the well-being of students, educators and families throughout the Commonwealth. These failures — compounded by false statements by the governor and other top officials — have potentially compromised the ability of our schools to continue in-person learning, though it remains our goal to keep Massachusetts classrooms open.
The Massachusetts Teachers Association is demanding immediate corrective action to ensure that every student and educator in our public schools has access to reliable COVID-19 tests, adequate and effective personal protective equipment, and readily available vaccines and boosters.
"The time is now for others to step in and ensure that immediate steps are taken to keep students and educators safe."

MTA President Merrie Najimy
"Since the start of the pandemic, Governor Baker and Commissioner Riley have demonstrated gross incompetence in their failure to take vital steps to keep students, educators and communities safe," said MTA President Merrie Najimy. "They did not consult with educators last year when it was necessary to move to remote learning. They stymied efforts to promptly vaccinate educators until educators' unions brought pressure to bear and the White House stepped in. And most recently, they bungled the distribution of COVID-19 tests while also distributing inadequate masks and making repeated false statements about the process and about public health.
"The time is now for others to step in and ensure that immediate steps are taken to keep students and educators safe," she added.
Yesterday, Najimy testified before the Legislature's Joint Committee on Education supporting a bill requiring the use of masks in public schools through June. Now the MTA has asked legislative leaders to investigate Baker's handling of the pandemic as it pertains to keeping schools open and communities safe.
The MTA is advocating for an agency other than the state Department of Elementary and Secondary Education to take over COVID-19 testing and distribution of PPE, as well as ensure access to vaccines and boosters for students and educators.
"This is vital to all communities – but we are particularly concerned about communities of color, which have been the hardest hit by the pandemic," Najimy said.
Najimy expressed outrage about the repeated inaccuracies that have emanated from the administration about the quality of masks distributed to school communities in recent days.
"The governor is putting public relations over public health," Najimy said.
After MTA members questioned the quality of some of the masks that were distributed over the weekend, Baker adamantly stated that the educators were wrong. He and DESE spokespeople inaccurately claimed that the Massachusetts Institute of Technology had tested the masks that were distributed and that they were more than 87 percent effective.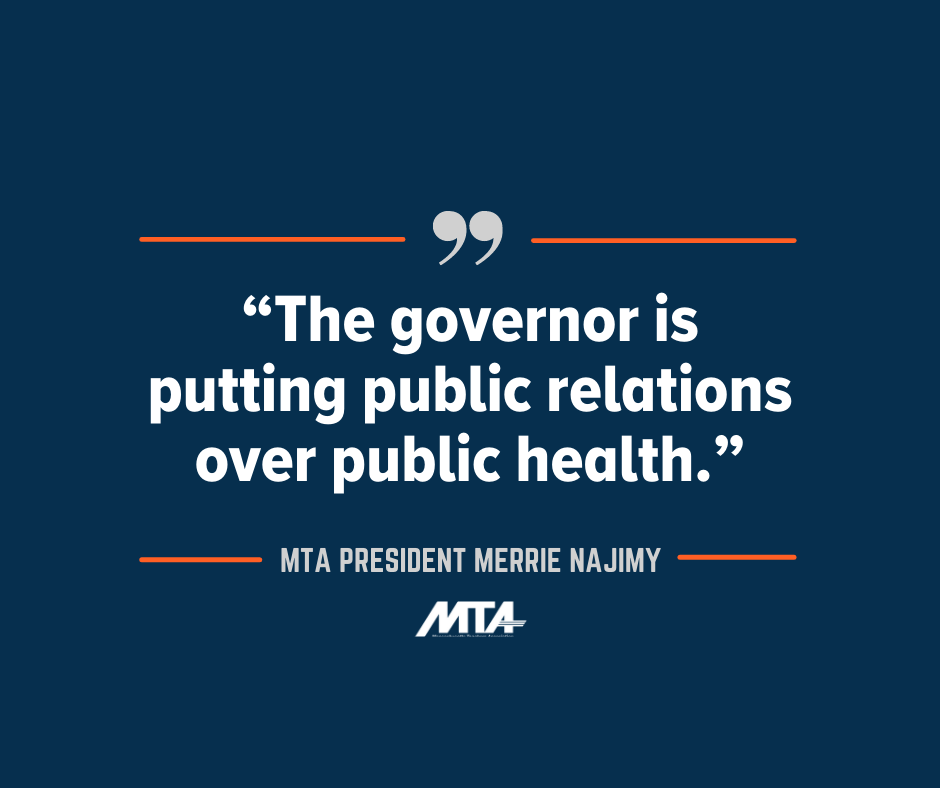 "That has now been proven wrong, and to assert it was negligent and dismissive," Najimy said.
In exchanges between educators and Gregory Rutledge, an MIT professor of chemical engineering, Rutledge has made it clear that MIT did not test the KN95 masks in question, which are manufactured by Fujian Pageone and labeled "non-medical."
In the spring of 2020, MIT assisted in the effort to test the efficacy of KN95 and N95 masks — working to ensure that frontline medical workers were not being exposed to dangerous risks. Following the administration's claims and the questions raised by educators, Rutledge reached out to state agencies to clarify that the Fujian Pageone non-medical KN95 masks in question were not among those tested by his lab.
In fact, the federal Centers for Disease Control and Prevention tested the non-medical masks and found their efficacy rate to be between 25 percent and 45 percent – far lower than claimed by the state since they were distributed.
"Baker and Riley made false statements that put the public at risk even as the omicron variant spread like wildfire and COVID-19 cases soared," Najimy said. "They either knowingly lied or they demonstrated gross incompetence — a product, at least in part, of their animus toward educators' unions and their unwillingness to engage expert stakeholders in their plans to provide masks and tests on an urgent basis.
"Their actions are not only ineffective and inadequate, but also pose a clear danger to students, educators, and families," she concluded. "Immediate action is warranted to put the process of protecting our school communities in responsible hands, and an investigation needs to be launched without delay."