Educators rally for safe learning conditions
---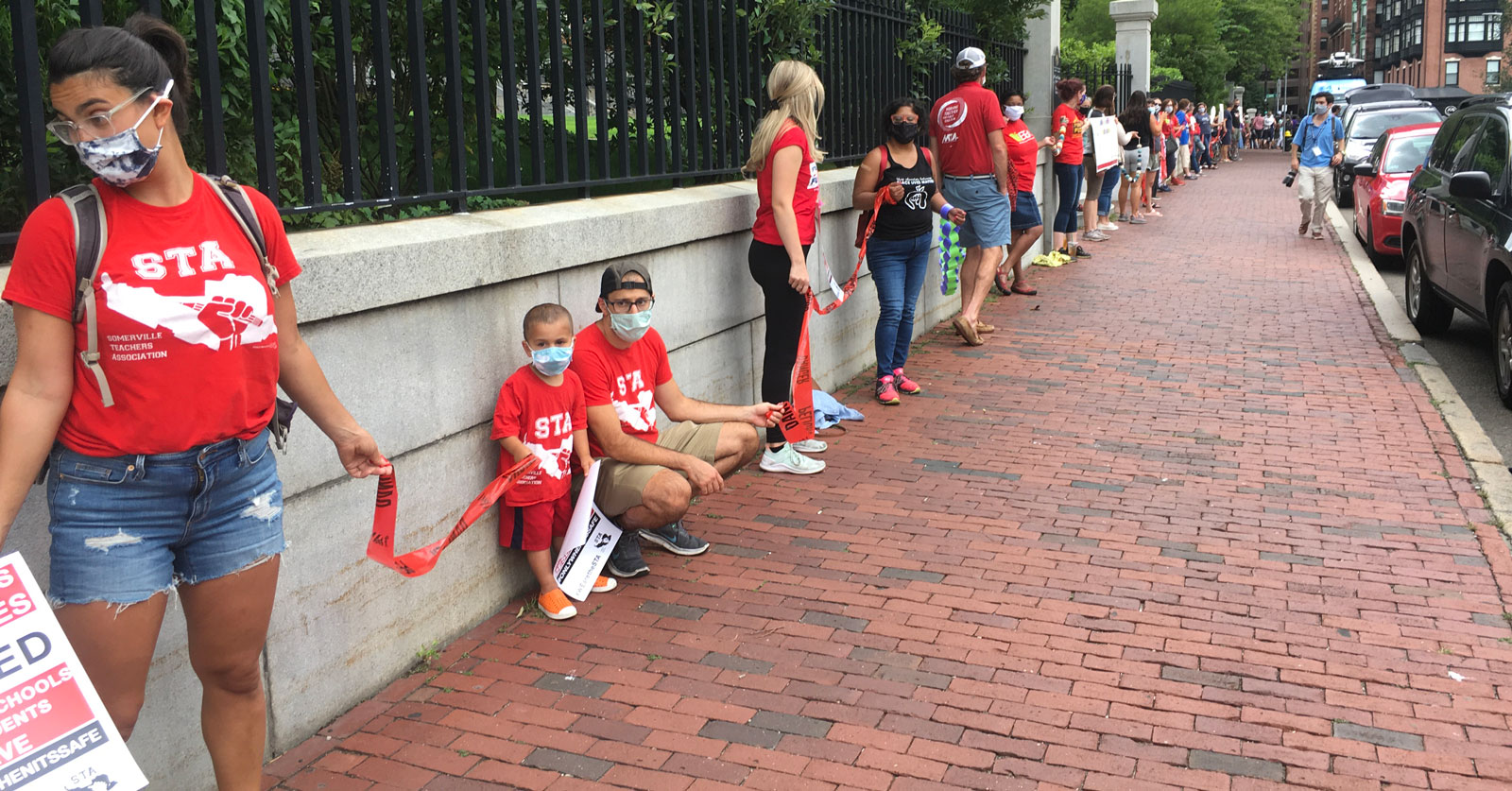 Several hundred educators gathered outside the State House today chanting and cheering for a safe return to learning. "Stand up! Fight Back!" was one of the rallying cries as members of the MTA, AFT Massachusetts and the Boston Teachers Union — along with supporters from other unions and community allies — demanded that the governor require all school districts to open remotely until health and safety measures are met.
"Our members are longing to get back to in-person teaching and learning, and students are longing to see their educators and friends in person," said MTA President Merrie Najimy. "But our greatest obligation as educators is to protect the health and safety of our students as we educate them. Our greatest obligation as a union is to keep our educators out of imminent danger.
"It's reckless of the governor and school districts not to put commonsense safety measures in place before we bring students and staff back into our buildings," Najimy said.
Similar demonstrations were held in other parts of the state during the morning and afternoon as part of a Day of Action. From Greenfield to Nantucket, educators, students, parents and other community members offered a similar message: Schools should reopen to in-person instruction #OnlyWhenItsSafe!
The Day of Action started early in Western Massachusetts. A standout — stretching along Route 5 from West Springfield and Holyoke to Northampton and Greenfield — was coordinated by the Western Massachusetts Educator Action Network.
In West Springfield, a line of teachers, Education Support Professionals, parents and community allies lined the road during the morning commute. Their signs bore messages such as "Students Need Teachers, Not Classrooms," and "Face-to-Face: Only when it's SAFE!" Motorists responded with a chorus of honking horns and thumbs-up greetings.
One of the biggest concerns among educators is that the state has not required districts to inspect and repair buildings or their ventilation systems, which are needed to ensure that fresh air is brought in to reduce the spread of the coronavirus. Educators' unions are also pushing Governor Charlie Baker and the Legislature to require and fund frequent testing of students and staff, as is being planned for many public and private colleges.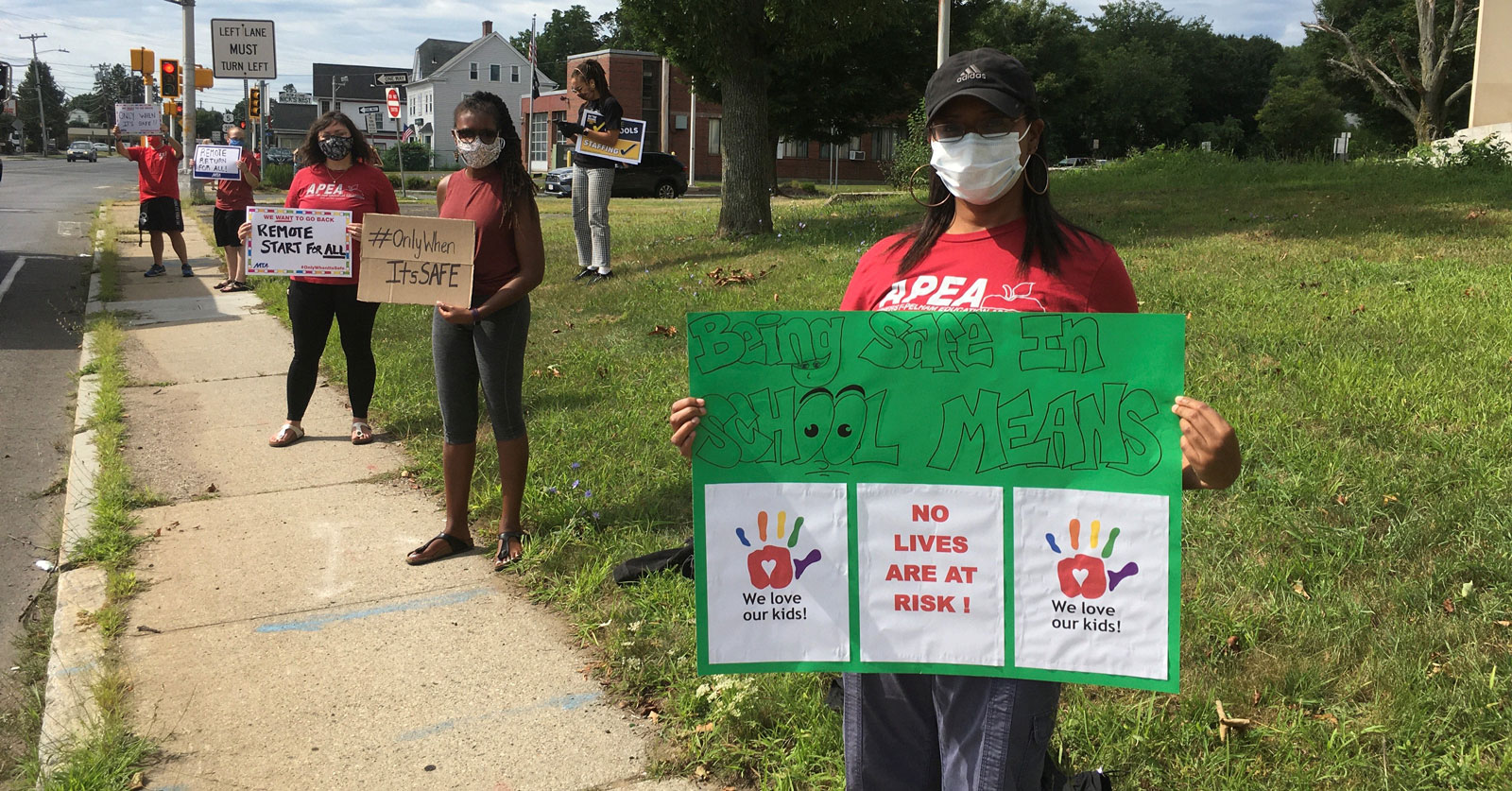 "If they can do it for the NBA, they can do it for our schools," said Beth Kontos, president of AFT Massachusetts.
On the Cape and Islands, educators participated in a "social media storm." They also held socially distanced standouts, which were coordinated by the Cape and Islands Area Massachusetts Educator Action Network, in Sandwich, Hyannis, South Yarmouth, Orleans, Falmouth and Oak Bluffs, as well as on Nantucket.
Later in the afternoon, dozens of socially distanced, mask-wearing MTA members gathered at the Merriam Avenue Overpass in Leominster to send a message to area school committees and superintendents that they must live up to their commitment to provide a safe environment for students and staff.
According to the Baker administration, about 30 percent of the 371 districts that have made decisions about the approaching school year say they will continue fully remote instruction. Four of the five largest — Worcester, Springfield, Lynn and Brockton — have chosen to stay remote for the start of the year.
Other districts have filed plans for a hybrid model, bringing back some educators and students while allowing others to learn from home. These plans are currently being negotiated, and some local unions are pushing back against having in-person instruction until safety conditions are met.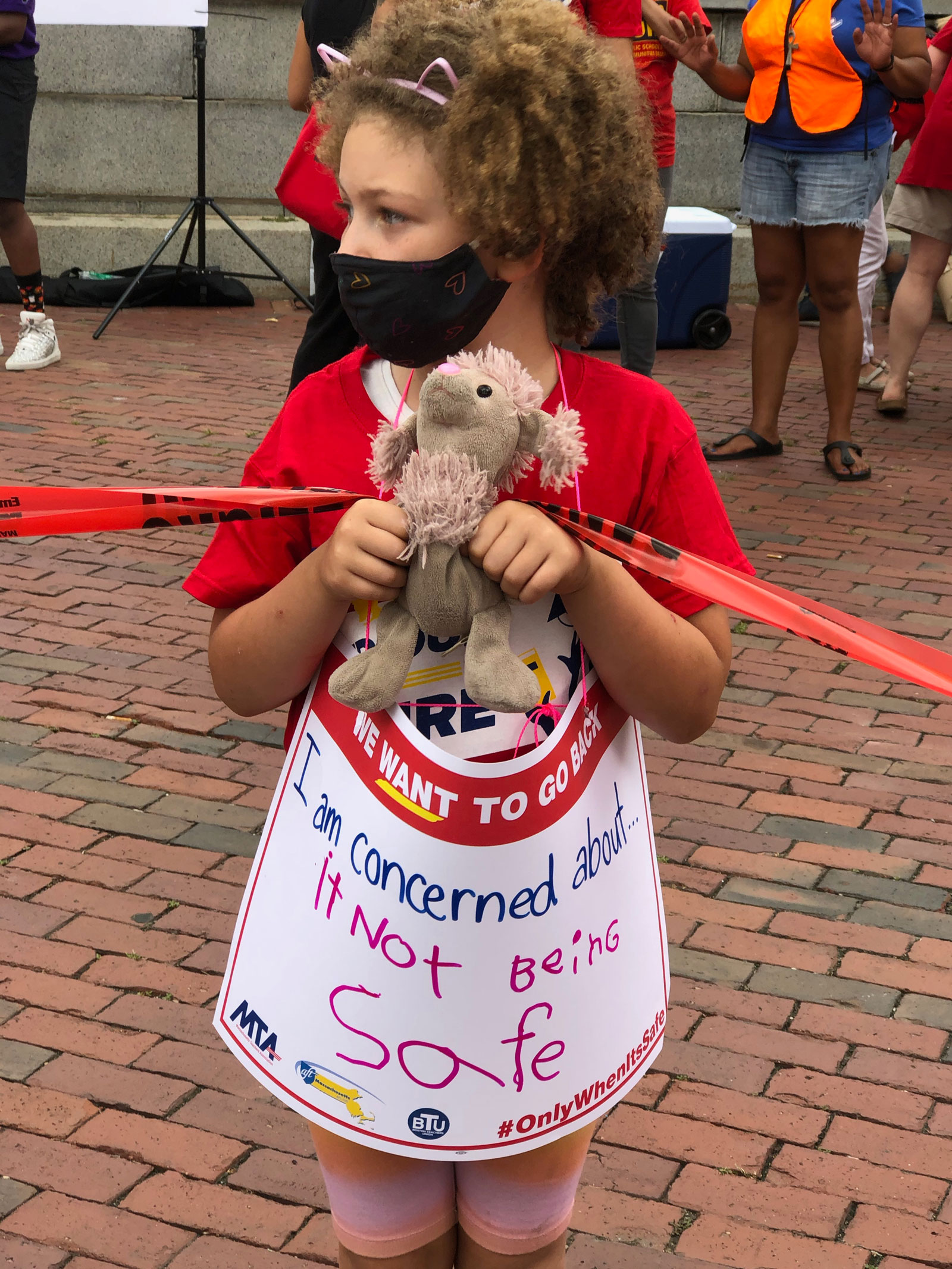 In the Athol Royalston Regional School District, for example, the plan has been to let parents choose full in-school instruction or remote learning. But in recent days, five school employees have tested positive for COVID-19 and an inspection report has found that Athol High School does not have a functioning ventilation system.
"Consider Athol the canary in the coal mine," Athol Teachers Association President Mary Grutchfield wrote in the Telegram & Gazette, "and the canary isn't doing well. If you can't prove that your schools meet basic health and safety standards, you should open remotely."
Educators intend to keep at it for the foreseeable future, holding standouts and other actions as they bring out the voices of educators and bargain over safe conditions for returning.
Tomorrow, the Educational Association of Worcester will hold a late-afternoon event dubbed the "We Are the Voice of WPS Car Rally."
"We have asked to speak with the district about safe schools for months and have been ignored," reads a poster calling for participation in the rally. "WPS must listen to the voice of educators, support staff, and students when planning a safe school year. Speak WITH us, not FOR us."