Racial justice is the focus of many Week of Action events
---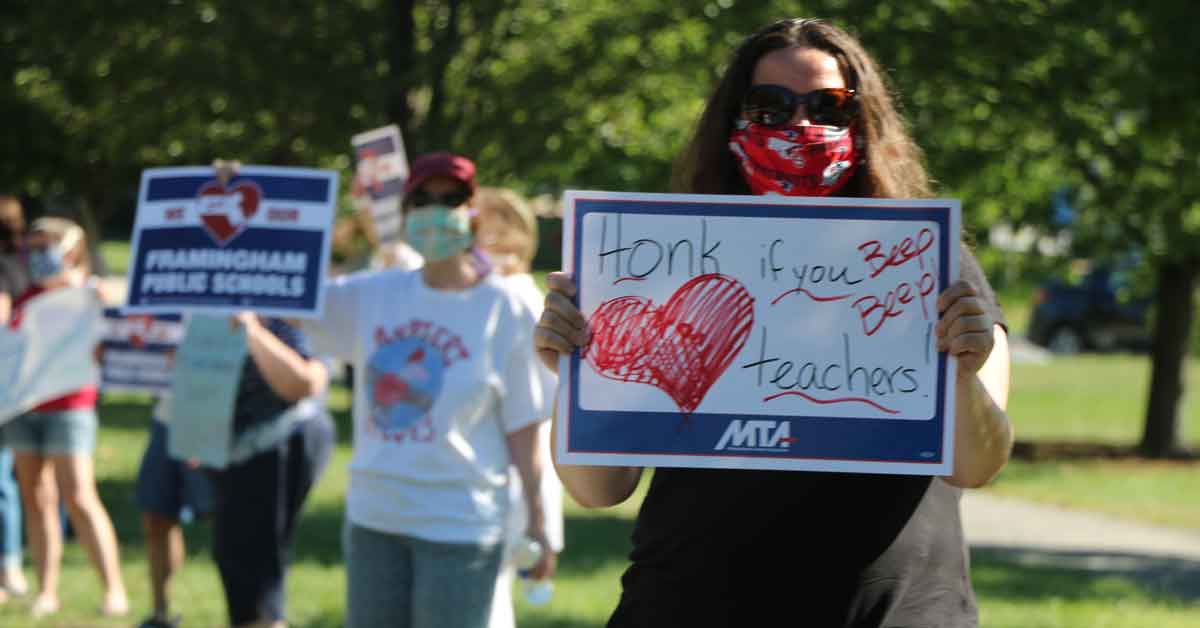 Car caravans and a standout spread the Education Justice = Racial Justice message far and wide on the second day of Week of Action events.
The spectacular late spring day featured lengthy car caravans — one in Haverhill and Andover and another that traveled through Springfield, Chicopee, Northampton and Amherst — along with rallies that focused on racial justice as a theme.
One midafternoon "Care-A-Van" started at Haverhill High School and snaked through city streets, making its way to downtown Andover for a rally. A crowd of students, parents and other community members listened to what speakers had to say about the need to fully fund education budgets, both for equity and to ensure a safe reopening for public schools.
In Springfield, the Western Mass Car Caravan for Education Justice left Central High School and traveled to Chicopee High School. Participants adorned their vehicles with signs demanding racial, social and economic justice — along with appeals for full funding of public schools and debt-free public higher education.
The caravan regrouped in Northampton, stopped at Amherst Regional High School, and ended the day on Haigis Mall at UMass Amherst.
Several higher education unions have planned actions at UMass on Wednesday to tell the UMass Board of Trustees to Put People First.
On Framingham's Town Common, the Framingham Teachers Association held a Celebrate Our Students standout that focused on the need to equitably fund school districts.
Earlier in the day the association posted an antiracism statement on its Facebook page.

"As educators, we can lift up our students and our communities," the statement read. "We can make space for all voices, not just the privileged ones. We can heal through teaching and provide our students with the critical thinking skills and knowledge necessary to create a more just and equitable society."

A list of Week of Action events is posted on the MTA's Facebook page at facebook.com/massteacher/events.