Retirees seek fairness on pensions and benefits
---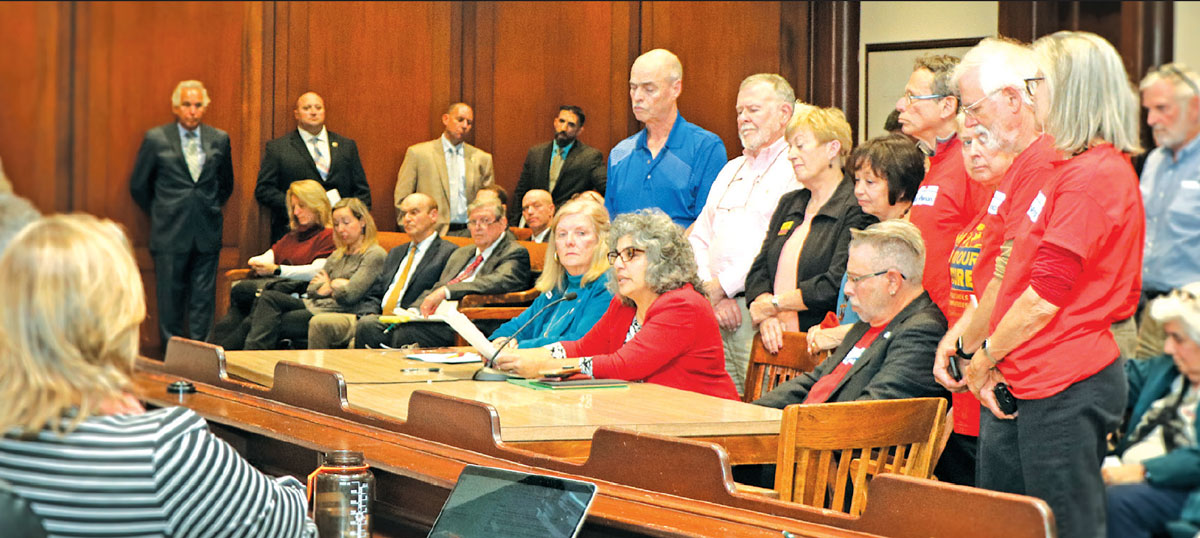 MTA retirees used their "teacher voices" to speak out in support of legislation that would protect health insurance and pension benefits for public employees at a State House hearing before the Joint Committee on Public Service.
A delegation of MTA retirees testified on Oct. 21 in favor of the legislation, An Act to Provide Fair and Affordable Public Retiree Benefits, which seeks to provide modest economic security for retired public employees. The bill (S.1499/H.2232) is sponsored by Senator Julian Cyr (D-Truro) and Representative Daniel Donahue (D-Worcester).
"We have a moral obligation to both honor the promises that were made to our retirees and to provide current employees with the prospect of a secure retirement so that we continue to attract and retain quality people," said MTA President Merrie Najimy. Najimy asked retirees to stand with her as she delivered her testimony to the committee.
The bill would:
Ensure that pension benefits are better able to keep pace with inflation. It would immediately increase the dollar base on which the annual state pension Cost of Living Adjustment is calculated — from $13,000 to $18,000 — and over time it would raise the base to align with Social Security's maximum benefit for an individual worker retiring at full retirement age. That figure is $34,332 in 2019.
Provide municipal retirees with increased stability in health insurance premium payments. The bill would freeze the insurance premium contribution share for current municipal retirees at the percentage they are paying upon the effective date of the legislation and lock in the percentage for future retirees based on their retirement date.
Protect retired public employees who are not eligible for Medicare. The bill would create a mechanism to cap out-of-pocket expenses for public-sector retirees who are not Medicare-eligible at $2,500 for individual coverage and $5,000 for family coverage.
Retired Arlington educator Ann Tierney was among the retirees who shared their own stories during the hearing.
"Today, I find myself being treated, for purposes of health insurance, as if I were presently teaching," said Tierney.
"I live on a salary that I received in 2006 — 13 years ago," she continued. "And that amount is a lot less than a teacher makes in 2019."
Tierney also explained that many public employees who began their careers decades ago are not eligible for Medicare and are therefore burdened with higher premiums.
---
To help advance this bill, please contact your legislators and ask them to urge the Committee on Public Service to release it with a favorable recommendation. To find your legislators, visit malegislature.gov/findmylegislator.