Honoring human and civil rights leaders
Jean Conley, Editor/Writer

---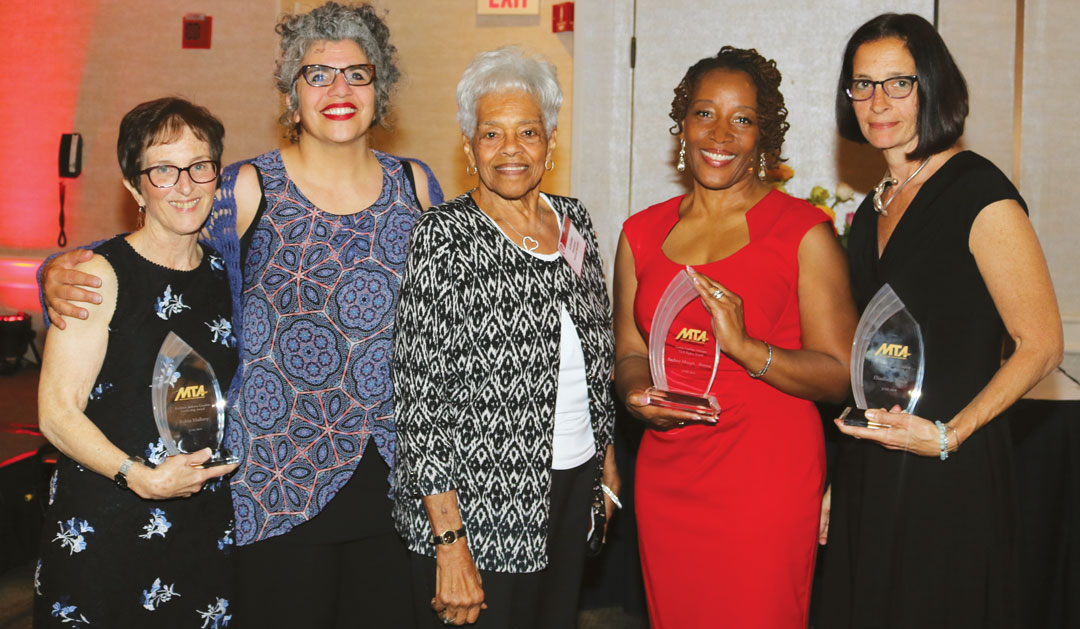 It was an evening of celebration as MTA members honored three fellow educators' commitment to human and civil rights.
Denise LaPolla, chair of the MTA Human Relations Committee and emcee of the 37th annual MTA Human and Civil Rights awards dinner, welcomed the crowd to the DoubleTree Hilton Hotel in Westborough on June 14.
The educators being honored were among the many recognized over the years by the MTA for their leadership on social justice issues, LaPolla said. She added that in keeping with tradition, the MTA would make donations to the charities of choice for each of the recipients.
MTA President Merrie Najimy praised the many educators in the audience, noting that "day in and day out," they dedicate themselves to the movement for social change. Addressing the award recipients specifically, she added, "Tonight is our night to honor and celebrate you and your commitment."
The educators being celebrated were Audrey Murph-Brown, a social worker in the Springfield Public Schools; Robin Mallory, a music teacher in Dracut; and Elizabeth Travis, a culinary arts instructional aide at Bristol-Plymouth Regional Technical School. Murph-Brown received the Louise Gaskins Lifetime Civil Rights Award, and Mallory and Travis each received the Kathleen Roberts Creative Leadership Award.
Najimy thanked LaPolla and other members of the Human Relations Committee for their tireless efforts on behalf of human and civil rights, and she recognized the contributions of Gaskins and Roberts, the two longtime MTA activists for whom the awards are named.
Najimy described Roberts, who passed away in 2017 at the age of 103, as "a pillar of the MTA."
She then turned toward Gaskins and told the audience that while Gaskins has long had "to navigate a world that has not always been friendly and embracing," she has responded to adversity with leadership, tenacity and grace.
Najimy pointed out that her father, Norman Najimy, a teacher and principal in the Pittsfield Public Schools and a Human and Civil Rights Award winner himself, was a "co-conspirator" with Gaskins for social justice.
As one of the founders of the MTA Ethnic Minority Affairs Committee and a leader for the advancement of educators of color in the MTA and the National Education Association, Gaskins "paved the road for us to walk," Najimy continued. "She paved the path, and then she stepped off the path, and then we stepped onto the path to take us where we are today."
LaPolla presented the award named for Gaskins to Murph-Brown, who has worked in the Springfield Public Schools for more than two decades.
Murph-Brown is a member of the MTA Executive Committee and serves as chair of the MTA Equal Opportunity Council. In Springfield, she is a driving force in ALANA — a group of African American, Latino, Asian and Native American educators and their white allies who have used grassroots organizing strategies to make a powerful impact on the city's schools by confronting institutional racism in hiring.
"Imagine a day when we no longer need strategic plans that challenge organizations to implement diversity policies," Murph-Brown told the crowd as she accepted her award. "Imagine a day when conversations about race and white privilege are dialogues that lead to — and increase — safe spaces for learning and growing. Imagine that!"
That day has not been realized, she said, but "in the meantime, we will continue to travel the rocky road paved by our predecessors. I am humbled that my peers recognize my contributions." Murph-Brown said she chose Concerned Black Men of Massachusetts and the Treehouse Foundation of Easthampton, which supports children in foster care, to receive her MTA donation.
As she introduced Mallory, LaPolla told the crowd that the revered music teacher "created a string music program where there was none" in Dracut. "She has mentored young music teachers and students, encouraging them to improve their musical talent. She has earned the respect and gratitude of her students, teachers, parents and community members."
Mallory also introduced the Music and Memory program to her community. Mallory uses the program, which is credited with improving the lives of seniors with dementia through music, as a teaching tool. She brings her students and their instruments to a local nursing home to play for the residents.
"Imagine a day when we no longer need strategic plans that challenge organizations to implement diversity policies. Imagine a day when conversations about race and white privilege are dialogues that lead to — and increase — safe spaces for learning and growing. Imagine that!"Audrey Murph-Brown – school social worker in Springfield
Mallory said she was "just really in a state of awe" as she received her award. She explained that music "has always been a source of joy, and it has helped me through difficult times." She said that because of the help she received from others as she undertook her own musical journey, she "wanted to pay it forward, giving children the same joy that I've had from music." She chose the Music and Memory Program to receive her MTA donation.
LaPolla then introduced Travis, noting that she has worked on behalf of students and her community for years. Travis' friends and colleagues "characterize Liz as always focused on trying to make the world a better place and for being an inspiration to all who know her," LaPolla added.
In 2013, Travis was part of a group that raised money to send 20 students and six advisers to New Orleans to help the Lower Ninth Ward continue to rebuild in the years after Hurricane Katrina.
That trip gave birth to the Bristol-Plymouth Community Service Club, whose volunteer activities over the years have ranged from game nights and art projects at nursing homes to opportunities for students to work with community members facing food insecurity.
"Public speaking is not my forté, especially in a room full of educators," said Travis, who spoke briefly but added that she was "honored and humbled" to accept the award. She chose the program Give Kids the World to receive her MTA donation.
Give Kids the World is an "84-acre nonprofit storybook resort in Central Florida for children with critical illness," Travis said, "where families are treated to a weeklong, cost-free vacation. These vacations create happiness and hope when families need it most."
Nomination forms for the 2020 MTA Human and Civil Rights awards will be available after Oct. 15 at massteacher.org/hcr.