Weymouth paraprofessional named 2019 MTA ESP of the Year
---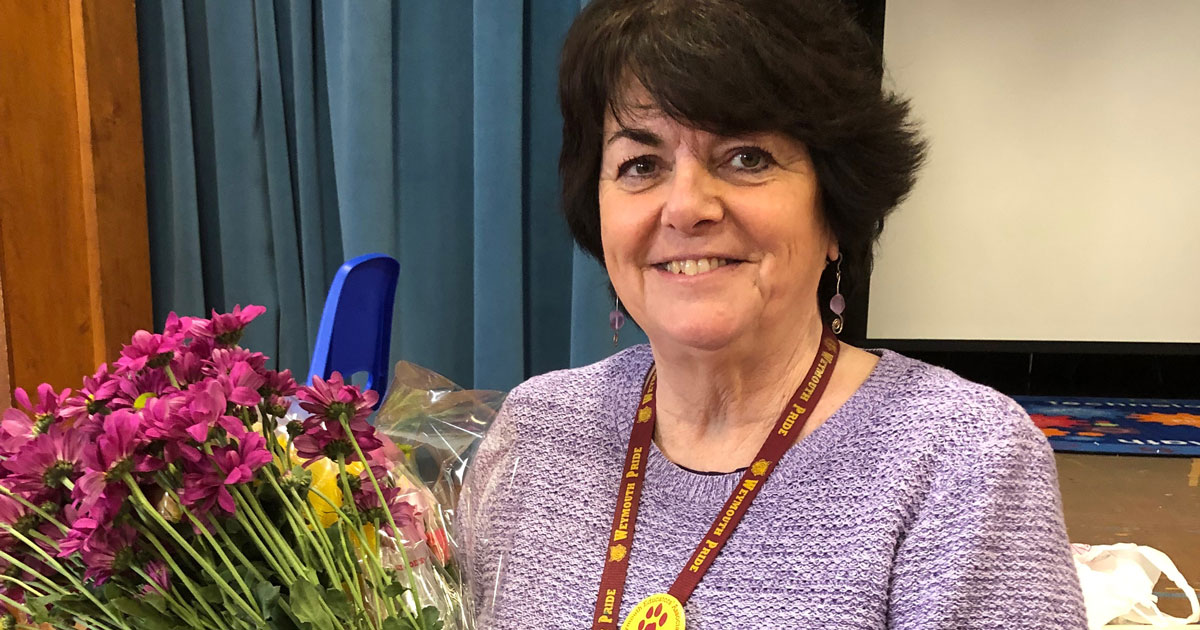 'Joni is responsible for just about everything that happens in this building'
Weymouth Public School educators, union activists, family members and a gymnasium full of dancing, cheering preschoolers were on hand at the Johnson Early Childhood Center in Weymouth to congratulate Joan Cederholm as she was named the Massachusetts Teachers Association's 2019 Education Support Professional of the Year.
Cederholm, a secretarial paraprofessional at Johnson and vice president of the Weymouth Educators' Association, has been an ESP in Weymouth for the past 23 years.
She has served for many years as a member of the WEA Executive Board and as a building representative. She is currently on her local's ESP Negotiating Team and also serves on the Joint Labor-Management Team and the Safety and Security Team. At the state level, she is currently participating in the MTA's leadership program for ESPs.
Cederholm was greeted with purple balloons and sustained applause at the surprise assembly.
"I'm overwhelmed," Cederholm said, thanking members of her family, colleagues, dignitaries and friends who had gathered for the event. "From the bottom of my heart, I am humbled by this award. I love what I do, and I do what I love."
ESPs are the heart of every public school.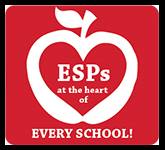 Learn about opportunities available to MTA education support professionals.

Cederholm will be celebrated at the annual MTA ESP Conference in Falmouth on April 5 and 6.

In announcing the award, Johnson Principal Maura Perez described Cederholm as someone "who is always willing to help her colleagues and is always developing those important relationships with our families, students and staff that instill trust and mutual respect."

A number of local and state union leaders were on hand, including MTA President Merrie Najimy and Vice President Max Page, members of the MTA ESP Committee and WEA President Michael Murphy.

Page presented a certificate to Cederholm on behalf of the MTA. State Senator Patrick O'Connor presented a citation on behalf of the Senate, and a third certificate was presented on behalf of Weymouth Mayor Robert Hedlund for Cederholm's many years of service to the Weymouth Public Schools.

Then Najimy engaged the children sitting on gym mats in front of her, explaining in terms they could understand why their beloved Mrs. Cederholm was getting an award.

"If you like to have friends, raise your hand," she said. Hands shot up. "If you want to help, raise your hand." Hands shot up again. "If you want school to be fair, raise your hand," she said, and more hands were raised.

"So guess what?" she continued. "We're giving an award to Mrs. Cederholm because she is a friend. We're giving her an award because she's a helper. And we're giving her an award because she makes your school fair."

Murphy had nominated Cederholm for the award.
"Joni leaves a part of her with every member of this community each and every day."

Weymouth Educators' Association President Michael Murphy
"Joni is responsible for just about everything that happens in this building," Murphy told the crowd. "From answering phones and organizing staff to scheduling, ordering supplies and managing the day-to-day activities of a full staff of teachers and ESPs, not only does she show the professional leadership needed in her position, but she continues to better herself by attending conferences and seminars that make her an asset to the town and her building."
Murphy cited Cederholm's engaging personality, calm demeanor and easy interaction with children, and he spoke about Cederholm's activism on behalf of all Weymouth educators — especially her advocacy for fellow ESPs.
"Joni has always been, first and foremost, the most ardent advocate for ESPs in the district," Murphy said.
"I can think of no better compliment than to say our success is what we leave with others," he added. "And Joni leaves a part of her with every member of this community each and every day."