A week to 'cherish' education and educators
---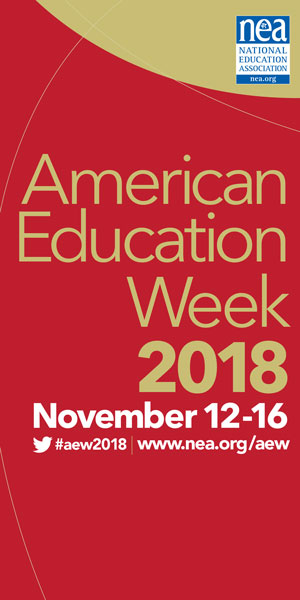 American Education Week, which will be held around the country from Nov. 12 to 16, is an annual celebration honoring educators and engaging parents and other community members in their local schools.
MTA President Merrie Najimy said the observance is the perfect time to "cherish" education — and educators.
"This week and every week, we should celebrate public education because it is the most precious institution in our democratic society," said Najimy. "The Massachusetts Constitution has enshrined within it the notion that education is central to preserving the rights and liberties of its people. To that end, the authors compelled legislators to 'cherish' public education."
Najimy called on legislators to live up to the promise made in that document.
"Legislators must fully fund public education — and fund it now," she said "That is why we have created the Fund Our Future campaign — to win the funding our schools deserve."
To learn more about the MTA's
Fund Our Future campaign, visit massteacher.org/FundOurFuture.
The NEA will use social media during the week to demonstrate that public schools are here for each and every student — that no matter what the circumstance, everyone is welcome and all deserve the support, resources and time they need to learn.
To join, just take a picture that represents your pride in public schools and post it on your local's social media channels using the hashtags #PublicSchoolsForAll and #AEW2018. The NEA will highlight examples on its social media accounts.
American Education Week features an important day to honor Education Support Professionals.
On Wednesday, Nov. 14, many school districts will hold events that shine a special spotlight on the work of ESPs. This year, the NEA is asking all educators to wear #RedforEd to recognize ESPs for their commitment to meeting the needs of all students.
Here is the schedule for the week:
Monday, Nov. 12, is Kickoff Day. Encourage students, staff and parents to celebrate great public schools.
Tuesday, Nov. 13, is Parents' Day. Invite parents and family members to school for a firsthand look at a typical school day.
Wednesday, Nov. 14, is Education Support Professionals Day. Wear #RedForED to recognize and celebrate ESPs who meet the needs of the whole student.
Thursday, Nov. 15, has the theme of Educator for a Day. Encourage elected officials and community leaders to serve as "educators for a day" for a hands-on school experience.
Friday, Nov. 16, is Substitute Educators' Day. Honor and celebrate educators who are called on to substitute for regular classroom teachers in their absence.