Courage and Coalitions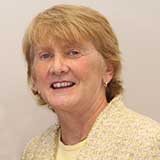 Barbara Madeloni, President

---
Greetings,
Last weekend I was privileged to join more than 100 members at MTA's Ethnic Minority Affairs Committee Conference. We were challenged to not only engage in difficult conversations about racism, but to act to oppose the institutional structures that deny the humanity and full rights of people of color.
I was especially moved by the keynote given by Kent Wong of the UCLA Labor Center about the imperative that labor unions act with communities in the interest of social justice. While he focused on preserving DACA and the DREAM Act, he made it clear that the strength of our unions in the face of attacks is not to withdraw and isolate, but to reach out and form strong partnerships with the community and fight for the greater good.
More than ever, we need to be organized and join coalitions to oppose the ongoing threats to undocumented members of our communities. This video, which Wong shared, inspires the courage and solidarity we need in the months ahead.
Solidarity with MCCC DCE Unit
The adjunct faculty members at our community colleges are demanding a real offer from management - not the zero percent before them. They reject the austerity narrative because they know that the colleges make money from the continuing education courses that adjuncts teach. Join them in a solidarity rally as they tell their stories and make their case to the Board of Higher Education at 9 a.m. on Tuesday, Dec. 12, at Mass Bay Community College, Wellesley Campus Library.
Demand UMass Withdraw from High Technology Council
Last week, at the 10-year anniversary celebration of PHENOM, the Public Higher Education Network of Massachusetts, UMass President Marty Meehan said that we need to work to pass the Fair Share Amendment, which will increase taxes on income over $1 million and provide funding for public education at all levels, as well as for transportation. We wonder why, then, UMass keeps its seat on the High Technology Council, whose members are the leaders in a lawsuit that would keep the Fair Share Amendment off the ballot.
Let President Meehan and the Board of Trustees know that we need the Fair Share Amendment to pass to fund our schools, colleges and universities - and that we expect their leadership and courage in taking a stand for it. Go here to sign a petition to defend the Fair Share Amendment.
Help Lynn say NO to Charter Expansion
Last fall, as you all well know, the people of Massachusetts said a resounding NO to lifting the cap on charters. Our fight is not over: Requests for charter expansion and new charters are currently under consideration. Lynn has been targeted with expansion of the KIPP school and a new charter. Help opponents communicate a resounding NO by signing and sharing this petition.
'Backpack Full of Cash' Screening Set for Jan. 8 in Arlington
The MTA and the Massachusetts Education Justice Alliance, along with other coalition partners, will hold a free screening of the film "Backpack Full of Cash" at 6:30 p.m. on Monday, Jan. 8, at First Parish Unitarian Universalist in Arlington. The screening will be followed by a community conversation about the issues raised in the film. Bring friends, learn more about the corporate attack on public education, and let's follow up with more organizing. For more information and to let us know if you are planning to attend, go here. Contact Ari Mercado by clicking here if you want to screen this film in your area.
National Efforts to End the High-Stakes Use of Tests Make Progress
In the day-to-day of our work and our organizing, it can be hard sometimes to see progress. This review from FairTest tells the story of how the pushback against high-stakes testing is moving forward nationally. Let's step up our work here in Massachusetts. The next meeting of the Less Testing/More Learning group will be held from 10:30 a.m. to 1 p.m. on Sunday, Jan. 21, at MTA Headquarters, 2 Heritage Drive, Quincy.
'Whatever Happened to Recess?'
The Alliance for Brookline Schools sponsored a forum on Nov. 1 asking "Whatever Happened to Recess?" To draw inspiration from this excellent event, go here for a video of the talk by Professor Peter Gray on "Play Deficit Disorder: A National Crisis and How to Solve It Locally." And go here for a video of the panel discussion that followed the talk.
Solidarity,
Barbara