Retirees testify that big holes in safety net need patching
---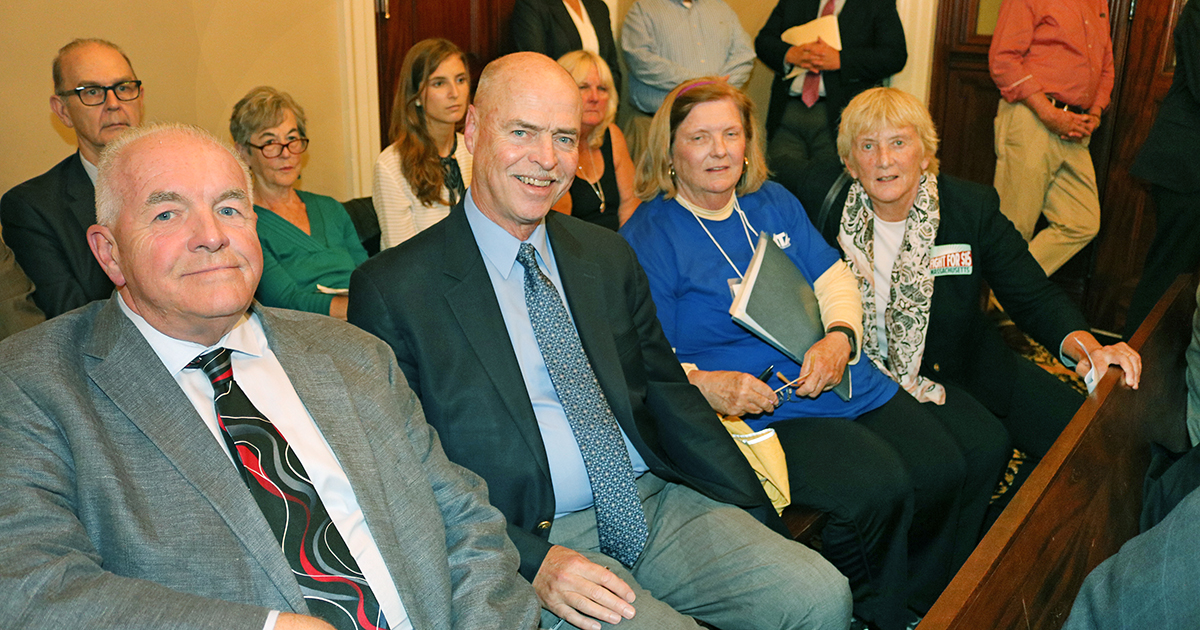 Educators and other public servants deserve a secure retirement, but there are holes in the retiree safety net that need fixing. Retired MTA members went to Beacon Hill today to testify in favor of an MTA-backed bill, Senate 1481, that would help fix those holes and bring greater fairness to the system.
"Imagine yourself retired and living on a modest fixed income when one day the amount you pay for health insurance has doubled overnight," said MTA President Barbara Madeloni, addressing the Legislature's Joint Committee on Public Service. "This bill would provide our retirees with a level of economic security and would help avoid these sudden and extreme increases in health insurance premium costs."
"At some point these retirees would have to decide whether they maintain their health insurance, keep their homes, or eat."

Stephen Gorrie
Retired Arlington educator Ann Tierney testified about the high costs for educators like her who are not eligible for Medicare because they began work in the public sector before 1986. As a result, their health insurance costs are much higher than the costs for those on Medicare.
"During my time in Arlington I was active in the union, serving in leadership positions," she testified. "I see the union as a vehicle to aid someone like me when my voice needs to be heard. Unfortunately, the voice of public employees was not heard in the mid-1980s, when a decision was made to include only some teachers in Medicare."
She described the plight of a cousin with multiple health problems who was hit with $3,290 in copayments last year.
The MTA-backed bill addresses three shortcomings in the system.
It would cap out-of-pocket expenses for retirees who are not eligible for Medicare at $2,500 for individuals and $5,000 for families.
It would increase the cost-of-living-adjustment for all retirees in the state and teacher retirement systems from $390 per year to $480. That's still below inflation, but better than the modest increase now allowed.
It would freeze a municipal retiree's health insurance premium contribution share at the percentage the employee paid on the day he or she retired.
Retired Malden educator Gerard Ruane illustrated the problem this bill addresses by describing the financial bind of a former colleague named Mary who retired in 1992 at age 63 after 40 years of teaching. (She asked that her last name not be used.)
"Economically, the best day for retired public employees is the day they retire," Ruane said.
Because Mary's pension hasn't kept pace with inflation, she lives on $2,108 a month after taxes. She is not eligible for Social Security or Medicare. Out of that modest income, she has to pay 50 percent of the premium of the same kind of health insurance plan that is provided to active employees.
Giving retirees like Mary an extra $90 a year by modestly improving the COLA "is hardly too much to ask," Ruane said. Freezing their out-of-pocket costs is also essential.
Retired Winchester teacher Stephen Gorrie, a former MTA president, described what happened to retirees in Winchester in 2012 when the town unilaterally decided to change the health insurance premium split to 50/50.
Some saw their health insurance premium costs double or quadruple. In the worst-case scenario, he explained, "Those who retired before July 1, 2004, but were not Medicare-eligible who were on a family plan had their annual premium costs increased from $6,410 to $11,050, or nearly $5,000."
"At some point," Gorrie continued, "these retirees would have to decide whether they maintain their health insurance, keep their homes, or eat."