Haverhill paraprofessional named MTA ESP of 2017
---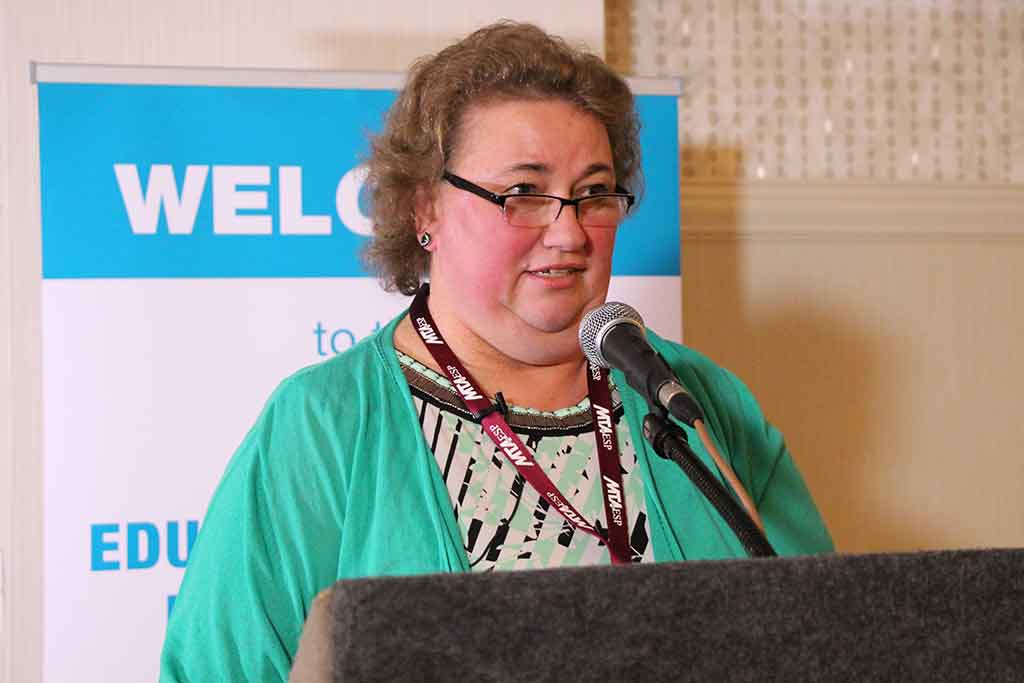 Nancy Burke, a special education paraprofessional at Haverhill High School, has been named MTA's Education Support Professional of the Year.
Burke works with the high school's most challenged special needs students. She transformed an empty, overgrown high school courtyard into a garden that serves as an outdoor learning lab for the nearly three dozen students in the school's life-skills program.
The honor was announced on Friday night, April 7, at MTA's annual ESP Conference, held at the Sea Crest Beach Hotel in Falmouth.
Burke has worked as a special educator in the Haverhill Public Schools for 18 years. She also serves as a building representative for her local association, the Haverhill Education Association, and as a member of the MTA Education Support Professionals Committee.
Burke was introduced by Donna Johnson, a member of the MTA Board and ESP Committee, who called her "an example for all of us of how to build power within our communities."
"She is an inspiration," Johnson said. "She always has a great attitude and a smile — and she does not take 'no' for an answer."
As Burke accepted the award, she said that when she attended an MTA ESP conference and first learned about the Massachusetts Farm to School Project, she realized that creating a garden would be perfect for her students "to get them out in the fresh air."
But she knew she couldn't do it all on her own.
"I really needed the help of everyone," she said, and so over time she recruited the football team, the wrestling team, and members of Junior ROTC to help with the project. "We put eight tons of loam out in this garden," she said, "and brought in many tons of lumber" using her father's truck for the raised beds and other garden structures.
The project was envisioned as a learning tool for the students in the life-skills classroom, she said, but it also inspired non-special needs students to be compassionate, "to give back to their peers."
The garden project eventually grew to include multiple vegetable gardens, a berry garden, a storage shed, a patio and a picnic table area.
In September 2015, Burke received a national Bammy Award from the Academy of Education Arts and Sciences for her efforts.
Burke calls the garden "a powerful learning tool for educating the whole child. School gardens create enthusiasm for learning, encourage healthy eating and foster team-building skills." She uses the garden to encourage her students to be creative, collaborate and apply critical-thinking skills.
Last fall, the plum tomatoes, potatoes and sunflowers grown by students in the life-skills program received first-place ribbons at the Topsfield Fair, the nation's oldest agricultural fair.
As she accepted the award Friday night, she expressed her gratitude to the MTA and the NEA for helping her develop as a person, for offering training and for "opening my eyes" to the possibilities created though union involvement.
"Being an ESP, you can do anything you want," she said — from writing a grant for a special project to serving on committees and being elected to leadership positions.
"You are here for your community," she said. "We have so much to contribute to the students that we serve. Get inspired. Be inspired," she added, "and don't take 'no' for an answer!"