Ending Gun Violence
Students have taken the lead in demanding a strong response to the mass shooting at the Marjory Stoneman Douglas High School on February 14 — and the MTA is prepared to support members who participate in actions.
The MTA has prepared legal guidance on student walkouts for members. Local association presidents should confer with their MTA field representatives if they are planning any actions or have questions.
MTA Statement: Trump's suggestion on arming educators 'simply outrageous'
Actions
March for Our Lives Rallies, March 24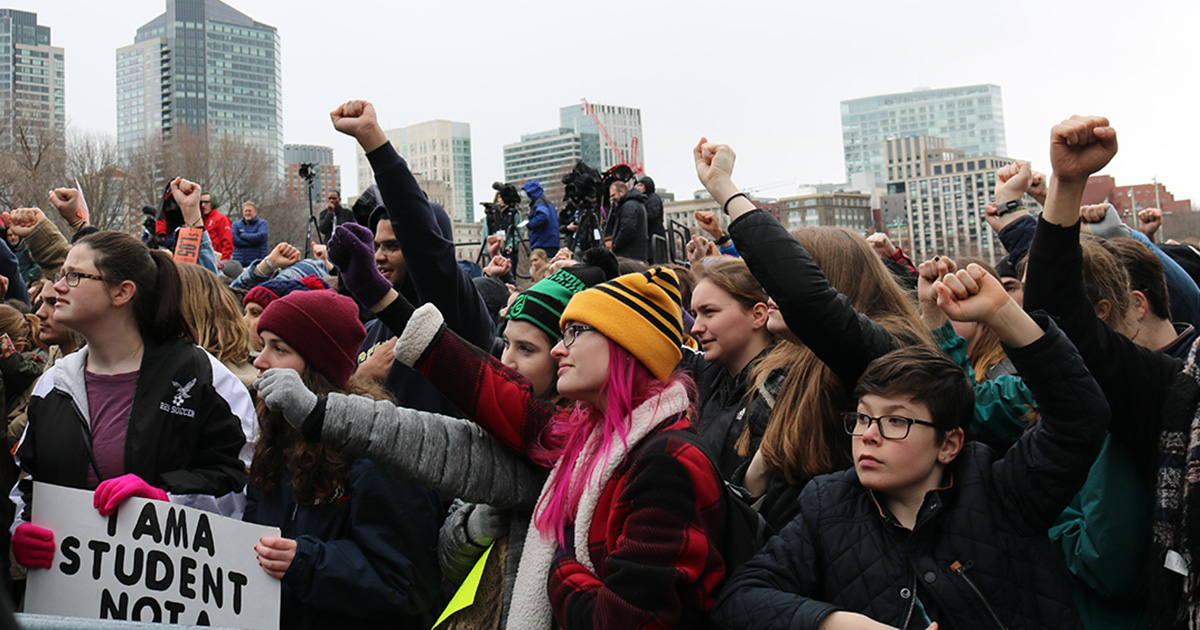 MTA members showed their support for young people seeking to end gun violence by joining student-led March for Our Lives demonstrations across Massachusetts on March 24.
In Boston, the site of the largest march in the state, educators walked together from Madison Park Technical Vocational High School in Roxbury to Boston Common behind MTA and Boston Teachers Union banners.
Most of the speakers at the Boston Common rally were students. Leonor Muñoz, a junior at Marjory Stoneman Douglas High School in Parkland, Florida, site of the February 14 tragedy that sparked the actions, and her sister, Beca Muñoz, a student at Northeastern University, led the huge crowd in chants of "Not One More!"
Rockland physics teacher and MTA member Graciela Mohamedi was a featured speaker in Boston. A former U.S. Marine, Mohamedi spoke with passion about why it is wrong to arm educators with guns as a deterrent to school violence. "A handgun in the hands of an untrained, overworked teacher will not be an effective measure against an armed gunman," she said. "I do not want a gun!"
She continued, "Arm us with science equipment. Arm us with pencils and paper to last a whole year. Arm us with books that aren't missing pages. Arm every school with equitable funding!"
National School Walkout, March 14
Millions of students across the country said #Enough on Wednesday, March 14, as they walked out of class, lined school hallways or gathered in gyms and auditoriums to honor the 17 victims shot to death on February 14 at Marjory Stoneman Douglas High School in Parkland, Florida — and to demand changes to the nation's gun laws.
Many planned walkouts at Massachusetts schools were postponed due to school closings in the aftermath of a major winter storm, but students in districts that did hold classes were among the participants who walked out for at least 17 minutes beginning at 10 a.m.
Hundreds of students from the Boston area, where most schools were closed, marched to the State House, where they demanded legislative action against gun violence. "Our generation has chosen to fight. We have chosen to demand action. We will take on the NRA,'' said one student activist.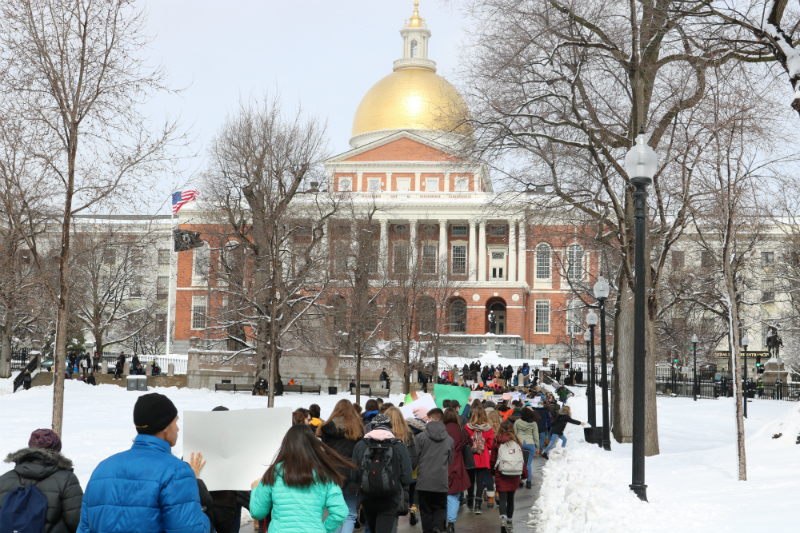 Day of Action Against Gun Violence in Schools, April 20
Students around the country walked out of schools and held marches and rallies in their continuing efforts to end gun violence.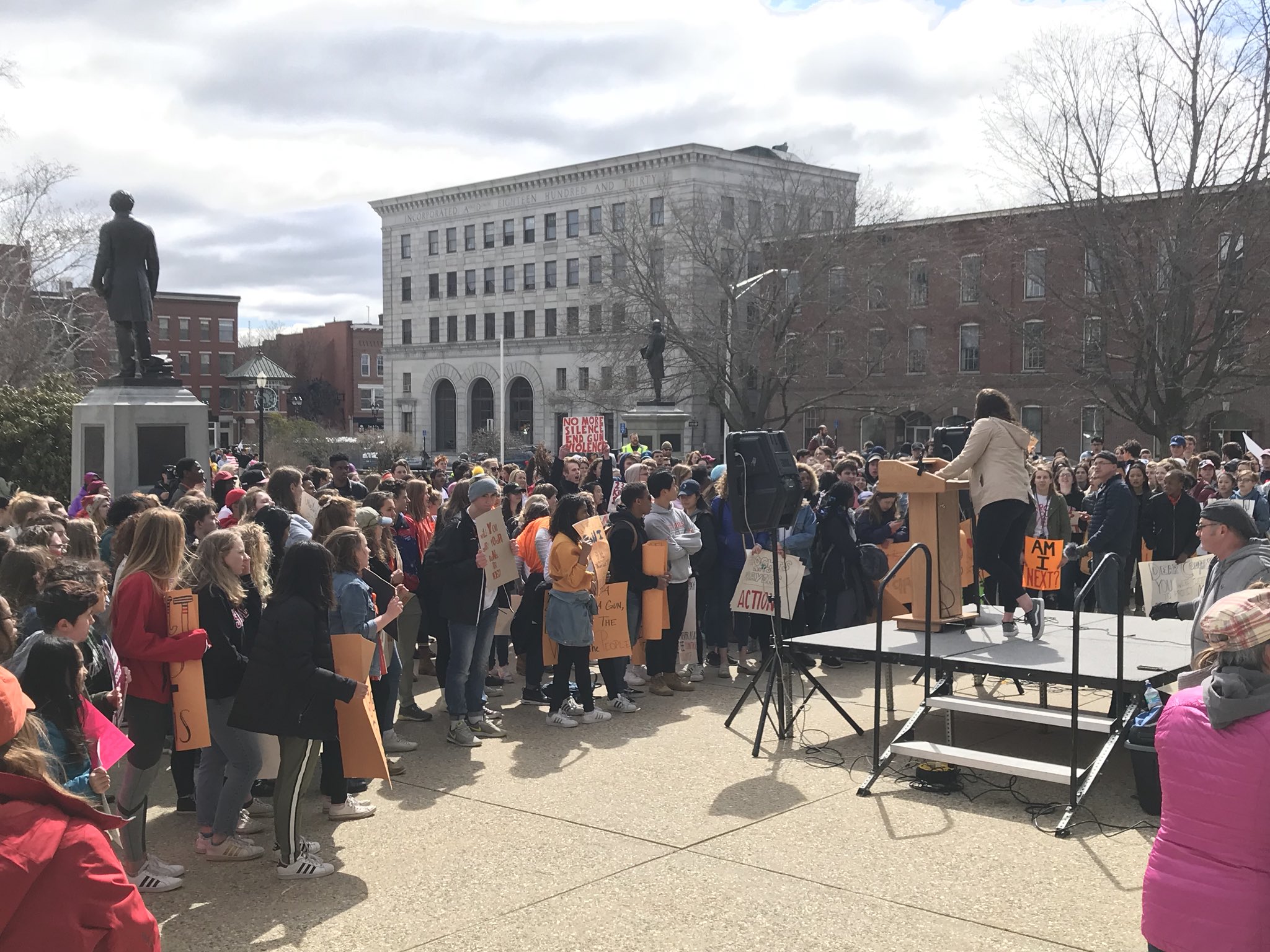 The events were planned in the aftermath of the tragic school shooting in February in Parkland, Florida, when 17 people were killed at Marjory Stoneman Douglas High School. The date coincides with the 19th anniversary of the high school massacre in Columbine, Colorado, in 1999.
The National Education Association, the American Federation of Teachers and the Network for Public Education were among the national organizations promoting the national Day of Action.
Though public school students in Massachusetts were on vacation on April 20, students here have been fierce advocates for a continued ban on assault weapons.
Students have lobbied for a so-called "red flag" bill that would allow family members or law enforcement officers to seek court approval to have weapons and ammunition taken away from those deemed to be extremely dangerous to themselves or others. The Legislature's Joint Committee on Public Safety has recommended the bill for passage and sent it to the full House and Senate.
The Day of Action also emphasized the need for young people to register to vote and participate in elections.
Message from MTA President
Here is a portion of one message that MTA President Barbara Madeloni sent to members recently about the MTA's support for the actions being planned:
While individuals may choose to respond to this crisis in different ways, I want you to know that the MTA will support educators who might face consequences for walking out or participating in other direct action or civil disobedience. Individuals are encouraged to think through the potential ramifications of taking action and make a reasoned decision, but know that the MTA will be prepared to support you.
The response from student organizers is inspiring and offers a way beyond the horror to meaningful action. Our work is to listen to students, support their organizing, and not hold them back. Students have so often been the leaders of mass movements that led to real change.