Participate in the Working People's Day of Action on Feb. 26
---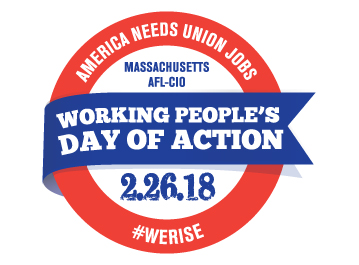 Stand up for your freedom to join unions for a better life.
Working People's Day of Action is Monday, Feb. 26
On Monday, Feb. 26, working people from across Massachusetts will join a national day of action to speak out for good union jobs. The actions are scheduled on the same day that the U.S. Supreme Court is hearing oral arguments in the anti-union case Janus v. AFSCME. The case is backed by the same corporate CEOs and billionaires who brought us Question 2 and other anti-union privatization efforts.
Show your union solidarity by wearing a Working People's Day of Action sticker — and spread the message on social media using the hashtags #WeRise and #All_In.