PD opportunities draw new teachers and ESPs
Scott McLennan, Communications Specialist

---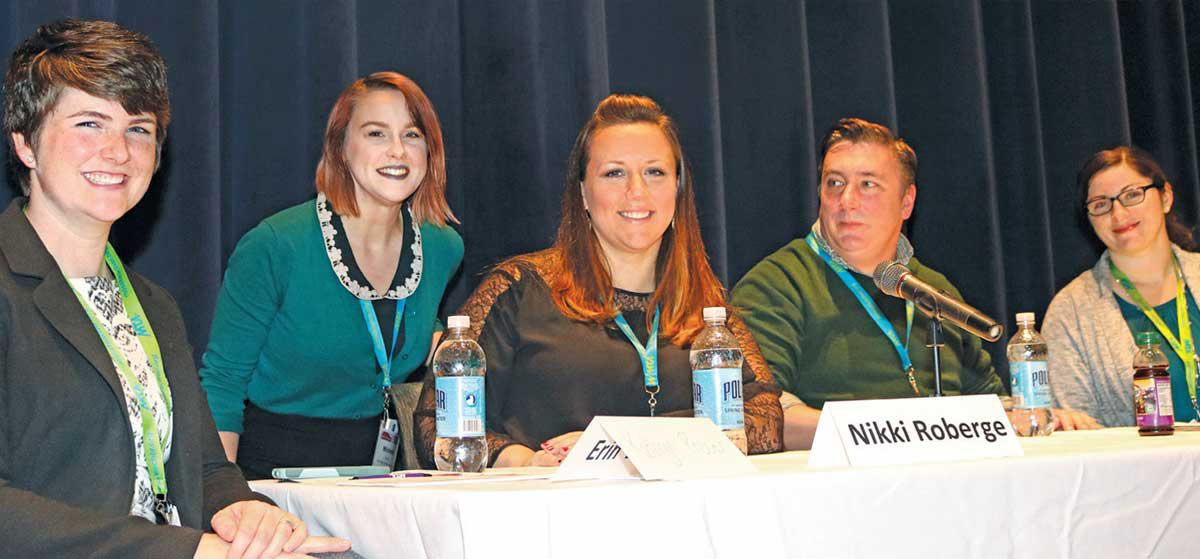 In dispensing advice to early-career educators at the 2017 Just for New Teachers conference, their veteran colleagues reiterated the importance of staying connected, seeking opinions and sharing ideas, and avoiding self-imposed isolation.
Those words of wisdom — offered during a New Member Committee panel discussion — were put into practice during the Nov. 4 event as about 200 new and aspiring teachers gathered at Worcester Technical High School for a day of career development and social activities.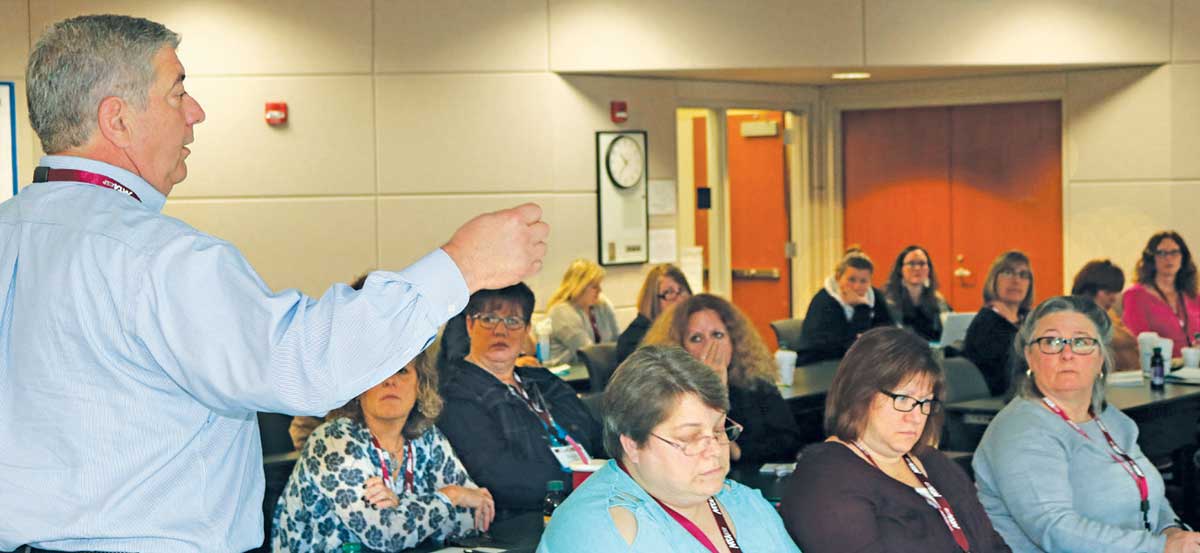 For the first time, the MTA fall regional professional development day for education support professionals was held in tandem with the conference. Though the new teachers and the ESPs participated in different workshops, they had the opportunity to enjoy lunch together. When MTA Vice President Erik J. Champy pointed out that National ESP Day would be celebrated on Nov. 15, the teachers responded with a round of applause for ESPs.
Both groups emphasized the value of ongoing professional development.
One ESP session dealt with helping children undergoing trauma in their lives. "We are dealing with these issues day after day, so a training like this makes it easier to help our students," said Nicole Jdey, an ESP who works in Walpole.
JFNT workshops covered subjects ranging from classroom management to meditation and other self-care techniques. But before they began their sessions, participants were treated to the panel discussion, which was led by committee member Kathryn Procter. The Agawam educator posed questions to fellow committee members Michelle Keane, Nikki Roberge, Rose Bell and Gene Reiber.
"It gets better."

Quincy Education Association member Rose Bell on being a new teacher
"You have to prioritize all that is being asked of you," said Keane, a member of the Harvard Teachers Association. "There's more to it than planning lessons and being in front of the kids."
Bell, of the Quincy Education Association, reassured the early-career teachers.
"It gets better," she said, adding that as educators become familiar with the curriculum, they have more time and ability to get to know their students.
Roberge, a member of the Wareham Education Association, shared her story of transitioning from paraeducator to classroom teacher, and she talked about the challenge of self-assessment.
"You want to be reflective, not critical," she said. "Not every lesson will work perfectly, but you learn to adjust and improve."
Reiber, of the Hanover Teachers' Association, told participants that as professionals, they have a great deal of influence. "Your influence is felt on students, parents and your colleagues," he said. "That power grows over time, and you have to remember that you make a difference in people's lives."
"Not every lesson will work perfectly, but you learn to adjust and improve."

Nikki Roberge, Wareham paraeducator-turned-classroom teacher
New Member Committee Chair Erinne Silver spoke during the lunch break, reflecting on the year since the last Just for New Teachers conference was held — less than two weeks after the 2016 election. Before that election, she said, she was more concerned about the fate of Question 2, a Massachusetts ballot initiative that sought to lift the cap on charter schools, than she was about the outcome of the presidential election.
President Donald Trump's unexpected victory — and the resulting attempts by his administration to undermine unions and promote more privatization of public education — present significant challenges, Silver said.
"What can we do as teachers? We need to think about our involvement in the MTA and to think about where our schools would be, and where we would be as a country, without our unions," she said.
Silver urged the JFNT attendees not to miss out on the value of simply talking to each other and to the ESPs who were on hand.
"This is an opportunity to network and share ideas," she said.
This story initially appeared in the Fall 2017 edition of MTA Today.