EMAC Conference focuses on social justice, combating racism
---
EMAC Conference focuses on social justice, combating racism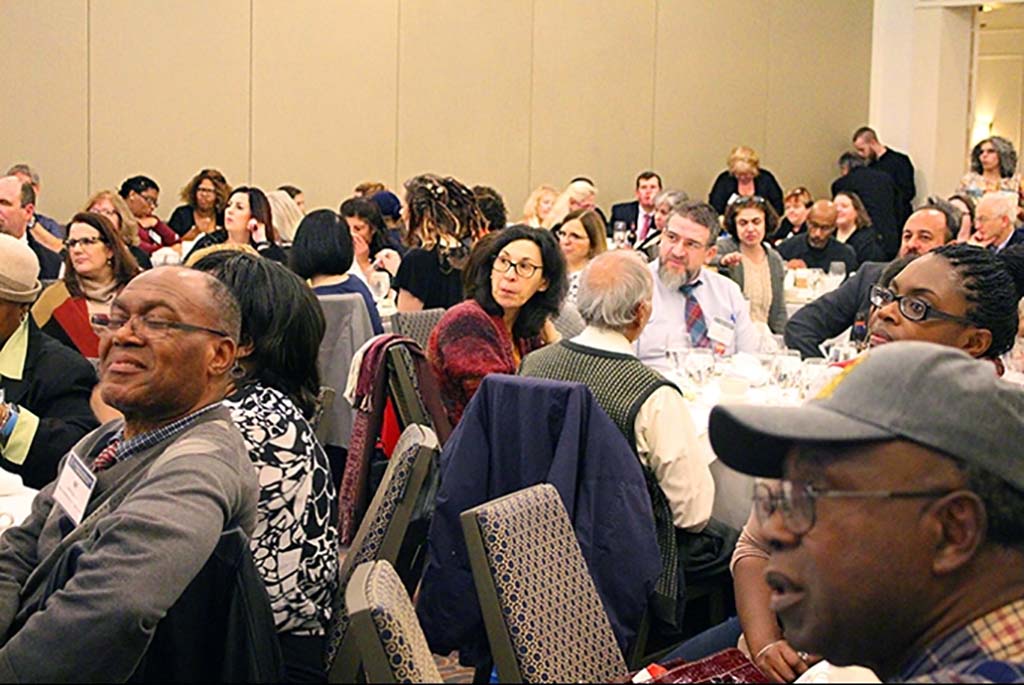 Participants listened intently to speakers during a dinner at the 2016 EMAC Conference, which was held on December 2 and 3.
Discussions about standing together against bigotry, understanding racism as a system designed to divide and control, and engaging in "difficult conversations" highlighted the 2016 MTA Ethnic Minority Affairs Committee Conference.
The event, whose theme was "Race, Ethnicity and Public Education: Deepening the Conversation," was held at the Sheraton Framingham Hotel and Conference Center Dec. 2 and 3.
Coming on the heels of a presidential campaign that tapped into a troubling strain of racism and bigotry in America, the conference opened with EMAC Chair Yan Yii reminding conference participants that "given the current political climate, our mission is more important now than ever."

"We don't have the luxury to sit silently," she said as she welcomed a crowd of about 180 people at the opening dinner on Friday night. "We must continue to have these uncomfortable conversations, stand up for equal rights, promote and embrace diversity, and combat racism each and every day."
MTA Vice President Erik J. Champy also welcomed the crowd, saying that when he first became involved in the MTA more than 20 years ago, his role models included a long line of ethnic minority activists who paved the way for others to participate more fully in the association.

"Along with MTA presidents, leaders were determined that we must level the playing field for all members so that our fine work could continue," he said.

Champy said that as an NEA director, he was appointed by President Lily Eskelsen García to the NEA School-to-Prison Pipeline Task Force. This opportunity allowed him to become deeply involved with the NEA's commitment to social justice, he added.

Citing the results of the 2016 election, MTA President Barbara Madeloni told the crowd that she felt fortunate "that we have this weekend to begin to have a focused, facilitated opportunity." We must, she said, think about the new political climate in terms of racial and social justice and public education.

"We don't know what is going to happen, what is going to come at us, but we need to prepare ourselves by forming really strong relationships — and that means we have to have difficult conversations with each other," she said.

The outcome of those conversations, Madeloni continued, "has to be a sense of understanding and the capacity to trust each other so that as we need to take action as a union, we know who is sitting next to us, who is standing behind us and that we are standing together."
Friday evening's keynote speaker was Gabriel Tanglao, a high school social studies teacher from New Jersey who leads the New Jersey Education Association's first Minority Leadership Training Cadre. Tanglao currently serves his union in a variety of roles: as local treasurer, as chair of the NJEA legislative action team and as Northeast Regional Director of the Asian/Pacific Islander Caucus.
Tanglao described his own family's multiethnic heritage in the Philippines and urged educators to work with their students to "bust the myth of racial superiority" that persists despite scientific evidence — including evidence that humans are 99.9 percent genetically similar, that in nature biodiversity makes for a healthy ecosystem, and that diversity within a species is key to survival. Instead, he said, the goal is to begin teaching "racism as a race system" whose purpose is to divide and control, leading to the conquest, enslavement, oppression and exploitation of people of color for generations.
He asked the crowd to begin acting to deconstruct the myth of any one race's superiority using the tools of public education.
"What if educators, shielded by their unions and armed with math and science, languages, arts and culture, in collaboration with communities fighting for social, economic and environmental justice, started a revolution?" he said. "These are the questions that should frame our thinking, our teaching and our organizing. 
"If racism is the weapon that seeks to destroy us, solidarity will be our fortress," Tanglao added.
After dinner, the conferees were treated to a performance by
Grupo Arcoiris
, a group of young people whose dances and songs incorporate merengue, mangulina and other rhythms to celebrate traditional music from the Dominican Republic and elsewhere in the Caribbean.
On Saturday morning, conferees chose from five back-to-back workshops: "Cultural Competence," "Islamophobia," "Minorities on the Small and Big Screen," "Real Talk with Emerging Leaders" and "The School-to-Prison Pipeline."
The workshops were followed by a luncheon with a keynote address by Tony Van Der Meer, a senior lecturer of Africana Studies at UMass Boston, longtime social justice activist and co-editor of the book "State of the Race, Creating Our 21st Century: Where Do We Go From Here?"

Van Der Meer challenged educators and unions "to recognize the structure of racism." Institutions of all types, he said, need to step back and question their own privilege.

He said unions, which should work with and support collective initiatives to bring about equity and justice in their work spaces, sometimes instead "engage in a sort of corporate unionism that marginalizes those that are part of the rank and file instead of having a more democratic governance structure."

He pointed to situations at UMass Boston, including one in which two talented black women professors were denied tenure, that displayed "a level of disrespect that black faculty have to endure all too often."

"We are in need of a radical change to decolonize our thinking about our relationship between our oppression and oppressors," he said. "Because we have a degree, a job, a home, a car and extra cash in the bank, we think we are not oppressed. We have bought the American dream, which has been a nightmare for many others."

The conference concluded with facilitated discussions led by members of the NEA's ethnic minority caucuses: Black, Hispanic, American Indian/Alaska Native and Asian/Pacific Islander, and a final session allowed conference participants the chance to wrap up their discussions.