Worcester paraprofessional named MTA ESP of the Year
---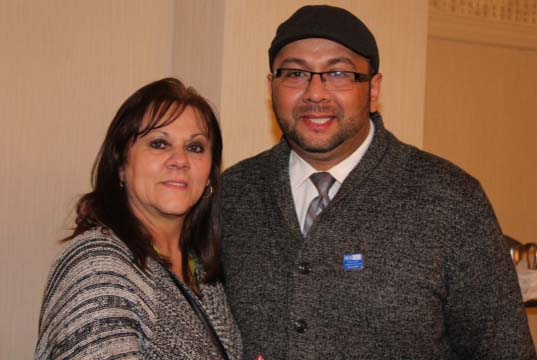 Ramos has worked for the Worcester Public Schools for 17 years. His first job as an ESP was as a one-to-one assistant to a kindergarten student who was visually impaired. To give his student every chance to succeed, Ramos learned Braille on his own, which allowed him to transcribe lesson plans and his student's work. He worked with that same student from 1999 until the student graduated from Worcester Technical High School in 2011.
As he accepted the award on the evening of  Friday, April 8, during a dinner at the annual MTA ESP Conference, Ramos reminded his fellow ESPs that "we are essential to the lives of our students. We change lives, and we save lives. And we do it for the love of it."
He said that ESPs need to be active at the local, state and national levels. "We need to put our voices in the room and make sure that we are listened to," he said.
"We need to put our voices in the room and make sure that we are listened to."

— MTA ESP of the Year Saul Ramos
Ramos was introduced by ESP Committee member Lois Powers, who was honored with the same award in 2014.
Because he was raised between two cultures, Powers said, Ramos developed into an educator who has a tremendous commitment to English language learners. His sensitivity makes him equally committed to special education students and LGBTQ youth.
"He works constantly to create a sense of inclusivity," she said, "and he brings this to his classroom, his school and his union."
Born in San Germán, Puerto Rico, and raised there and in Worcester, Ramos knows firsthand the challenges newcomers face.
 "As a Latino, I am proud of my roots and the beautiful mix of cultures we all come from," Ramos said. "I am a mixture of my mother's heritage as a Spaniard and my father's African and Taíno heritage. I am a passionate advocate for keeping our culture alive and making sure our community, especially our youth, are in touch with their roots and embrace the beauty of it."
Outside of work, Ramos enjoys a vast network of community connections and is an active participant in the arts.
He brings this same energy and drive to his union involvement. For years, the Educational Association of Worcester member has been a building representative, addressing the needs of members in his local. He has chaired the local's ESP Sick Leave Bank and is on the Bylaws Committee, and he is currently working to establish an ESP Committee and a Professional Development Committee.
Ramos is a member of four MTA committees — the ESP, Ethnic Minority Affairs and Bylaws and Rules committees, as well as the Equal Opportunity Council, of which he is vice chair.
At the national level, he was an at-large ESP member of the NEA Resolutions Committee in 2015. He is also the Northeast regional director of the NEA's Hispanic Caucus and a member of the Paraeducator Institute Workgroup and the Sexual Orientation and Gender Identity Committee. He is a graduate of the NEA Minority Leadership Training and ESP Leaders for Tomorrow programs.
Ramos also volunteers his time in a local soup kitchen and is known to drive around Worcester, which has a large concentration of colleges, looking for students' discarded furniture to donate to charity.
Letters supporting Ramos' nomination note his constant advocacy for others.  Yet Ramos' humility has often left his friends and colleagues unaware of his many accomplishments. 
One letter summed up what many of his friends and colleagues have noted, stating:
"I can speak for his thoughtfulness, his humor, his patience, intelligence, and the fact that he is not only a gentleman, but a gentle man — a trait that is often overlooked but needed so much in today's world."