Mass charter school boards lack parents, dominated by corporate interests
---
Annenberg Institute report finds parents of students in charter schools comprise only 14 percent of charter trustees statewide
A significant new report by the Annenberg Institute for School Reform at Brown University, released today by the Campaign to Save Our Public Schools, finds that parents are underrepresented on Massachusetts charter school governing boards, and that the dominant voices on those boards are from the financial and corporate sectors, not educators.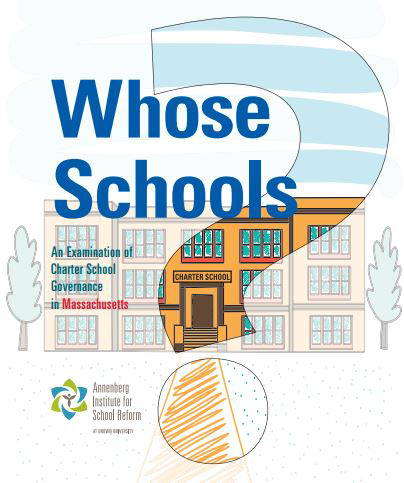 Parents of students in charter schools comprise only 14 percent of charter trustees statewide, and only five charter high schools include any student representatives on the board of trustees, according to the report. Approximately one-third of charter school trustees in Massachusetts are affiliated with the financial services or corporate sectors, while less than a quarter have educational expertise.
"When 60 percent of the charter schools in Massachusetts lack even a single parent on their boards of trustees, it's clear that the original mission of charter schools has been corrupted by the charter school industry and their corporate backers," said Ricardo Rosa, a parent of three children in the New Bedford Public School system. "These disturbing findings make it clear that new charter schools in Massachusetts are increasingly run by corporate executives and hedge fund managers, not parents and educators who know what's best for our kids."
"It's clear that the original mission of charter schools has been corrupted by the charter school industry and their corporate backers." — New Bedford parent Dr. Ricardo Rosa
The Annenberg Institute also found that significant parent representation on charter school governing boards is largely confined to schools that serve predominantly white students.
"The report finds that of the thirty-three charters that include any parents at all on the school's governance body, most—twenty-two—serve predominantly white students," said Juan Cofield, president of the New England Area Conference of the NAACP and chair of the Campaign to Save Our Public Schools. "Of the remaining eleven schools that serve mostly black and brown students, only two schools have more than one or two parents on the board."
The Annenberg Institute report identified a total of 789 trustees from the state's list of eighty-two charter schools operating in 2015-2016. Schools with no board member names or affiliation available on their websites were contacted by phone or email to acquire the missing information. To supplement the information provided by the schools themselves, researchers attempted to verify missing information utilizing online public profiles, publications, and online address directories.
One case highlighted by the report is "City on a Hill," a charter management organization that operates three high schools: two in Boston's Roxbury neighborhood, and the third in New Bedford.
"All three schools are governed by a single, fourteen member board of trustees that includes no identified parent or student representatives," reads the report. "Five of the trustees work at (or are retired from) investment companies. Three others are corporate leaders. Three work for companies that contract nationally to provide services to K–12 schools, and three work for non-profit organizations. One City on a Hill trustee lives in New Bedford and three live in Boston (though not in Roxbury but in Jamaica Plain, Chestnut Hill, and the South End), but others hail from Brookline, Cambridge, Southborough, Cohasset, and Hingham."
In the current school year, over $400 million in taxpayer money is being diverted to charter schools statewide, with money withdrawn from 243 local school districts1. The charter school ballot question would take more and more taxpayer money — as much as $100 million more the first year, $200 million the next year, $300 million the year after that, and on and on — from Massachusetts district public schools every year2. Local communities and their school committees have no say in the approval or operation of charter schools.
This total reflects the amount of Chapter 70 aid that will be diverted from the school district to one or more charter schools, minus the total amount of state reimbursement the district is estimated to receive.
The ballot question "could expand statewide charter school enrollment by up to 1 percent of the total statewide public school enrollment each year". In 2014-2015, Massachusetts had 926,281 K-12 students enrolled in K-12 public schools and charter schools. One percent of 926,281 is 9263 students. The FY15 statewide reimbursement rate paid by school districts to Commonwealth Charter Schools was $10,909 per pupil.