EMAC Conference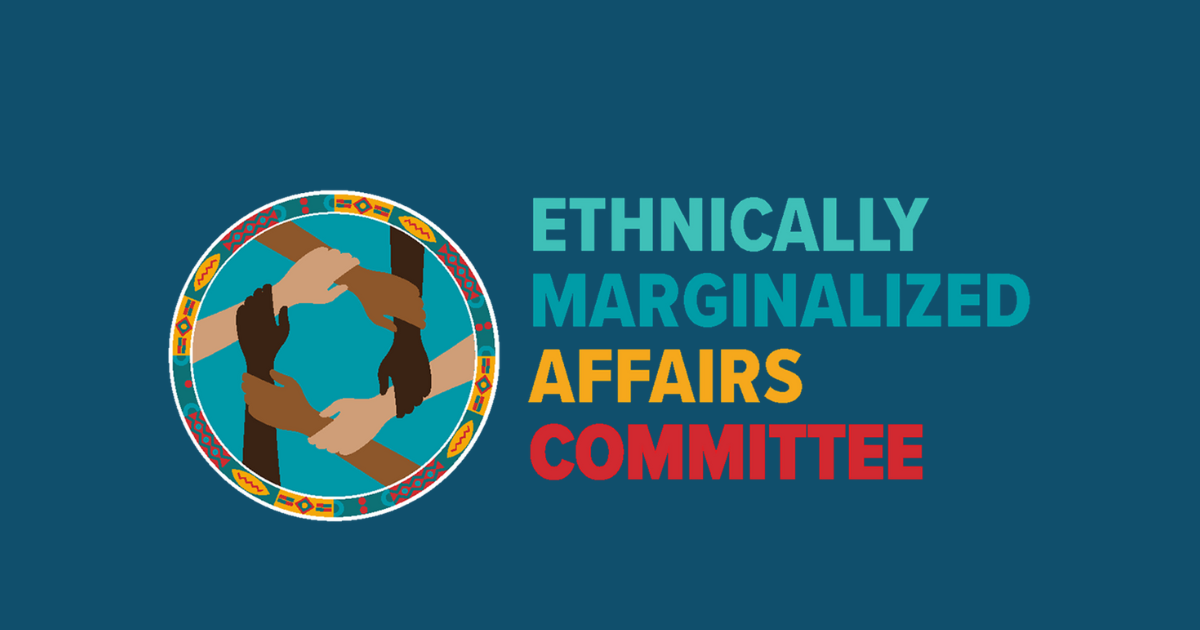 The MTA Ethnic Minority Affairs Committee Conference offers participants the opportunity to engage in discussions about white privilege and racism, ethnic and racial identity, and economic and social justice. The conference uses workshops, presentations and entertainment to inspire participants to work on ideas for action and to bring those ideas back to their locals, classrooms and communities.
Learn about the work of the Ethnic Minority Affairs Committee

Please join us for the 2021 virtual Ethnic Minority Affairs Committee Conference on December 3, 4, and 11.
EMAC has planned an extraordinary program for this year's conference, focused on the theme Post-Pandemic: Rebuilding Inclusive Communities in Education. The conference features two outstanding keynote speakers — Dina Gilio-Whitaker, an American Indian studies scholar and environmental justice advocate, and Liz Kleinrock, an anti-bias anti-racist educator. A schedule of inspiring workshops and time for members to meet and discuss important issues of the day rounds out the program. The EMAC Conference welcomes all members to learn more about supporting, celebrating, and collaborating with BIPOC (Black, Indigenous, People of Color) educators, students, and community members.
As a part of the opening events on Dec. 3, EMAC also invites members to share their own skills as part of the program, submitting short videos that showcase their talents, especially those that highlight their ethnic or cultural heritage. Registrants will receive details for sharing their videos.
Conference Program
Welcoming remarks from MTA Leadership and members of the Ethnic Minority Affairs Committee.

Welcome and Keynote by Dina Gilio-Whitaker

Dina Gilio-Whitaker (Colville Confederated Tribes descendant) is a renowned scholar, educator, journalist, and author in American Indian studies. She co-authored, along with Roxanne Dunbar-Ortiz, the popular book "'All the Real Indians Died Off' and 20 Other Myths About Native Americans" (Beacon Press, 2016) and is an adjunct professor of American Indian studies at California State University at San Marcos. As the Policy Director and Senior Research Associate at the Center for World Indigenous Studies, Dina has worked with Indigenous governments in the U.S. and beyond for many years, helping them formulate policy strategies and work cooperatively with federal and state governments and other collaborative organizational partnerships.

In her most recent book, "As Long As Grass Grows: The Indigenous Fight for Environmental Justice from Colonization to Standing Rock" (Beacon Press, 2019), Dina applies her expertise in environmental justice to create a foundation for thinking through what environmental justice policy means in Indian country. The only book of its kind, it stands as a primer for governments and organizations of all kinds engaging in environmental justice work with Indigenous peoples. And it is this base of knowledge she brings with her to DGW Consulting.

Dina is regularly invited to speak on topics related to American Indians (including environmental justice) at universities, conferences, and gatherings of all sorts all over the country.

12/3/21
6:00-8:00 PM

Rosa Lopez-Whitehill

Pembroke Teachers Association

MTA's Got Talent

The arts play an essential role in promoting social-emotional wellness and rebuilding community. On Friday night of our conference, we would love to showcase all the beautiful talents of our MTA community. Please consider submitting a short video if you have a talent or skill you would like to share. Performances that highlight your ethnic or cultural heritage are highly encouraged. You will receive instructions for participating in your registration confirmation email.

12/3/21
8:00-8:30 PM

Lisa Kramer

Spark Collaborative, Yes, And Creativity Coaching, and Heart Forward Theatre

The Power of Creativity, Collaboration, and Play to Build Communities.

Although often underrated, playfulness and creativity are key to building connections across difference for people of all ages. Using creative tools borrowed from the world of theatre, social therapeutics, and creative brain science allows people to connect even across multiple divides. Arts activists around the world use these techniques to build connections and collaborations that make real social change.

Participants in this workshop will first be introduced to how creative approaches have been used to build international connections even during global pandemic. Then we will play and create together. Activities will include both full group, and small breakout groups. There will be opportunities for verbal responses, written reactions, and sharing. The workshop is designed to stretch your comfort zone, not force you out of it. The end result is an experience of connection, growth, and new understandings—the foundation of rebuilding communities.

The interesting thing about play and creativity is that we tend to use it more for younger grades. However, people of all ages benefit from reconnecting with this part of ourselves, in order to reconnect with others. For that reason, this is a workshop for anyone interested in expanding their own tools and techniques for building community.

12/4/21
9:00-10;15 AM

Joseph Fails

Education Association of Worcester

Cultural Relevance in helping to rebuild community.

Explore how cultural relevance can help benefit community relationships. Christopher Emdin has explored the use of cultural relevance. He has written about it as a crucial way to meet communities of color on their own cultural and emotional turf, which he believes can play a significant role in helping to build community relationships. According to Emdin, instead of seeing communities as they are, with their own cultural identities.  We should view them more as separate parts of the whole, and without including them, society is incomplete.  Cultural relevance sees communities as places that influence cultural identity.  Emdin believes those who enter communities of color for the first time should not make assumptions.  Many base their assumptions on stereotypes or preconceived notions, usually because of community racial or ethnic makeup. Findings showed that a significant shift in community relations occurred when people looked beyond the environment and focused on the causes which led to it.

This workshop will require us to become comfortable with who we are and how society portrays us, which may place us in an uncomfortable light at times. This workshop is designed to help us grow more comfortable with working to build community relations.

12/4/21
9:00-10:15 AM

Eben Bein

Our Climate & the Massachusetts Youth Climate Coalition

Intersectional Climate Justice Advocacy

Racial, ethnic, and climate justice are inextricably interwoven. The young advocates of our state already understand and act accordingly, but we need to swell their ranks to secure a just, livable future. In this workshop, teachers will investigate climate justice intersections as they occur in MA and explore the various actions and tactics young advocates are using to push for solutions. We will review current policy solutions in the MA State House, including ones that youth advocates have written. Lastly, we will discuss ways students and teachers can plug in to the movement and align their assignments and capacity with climate justice solutions. Specifically, we will discuss how to scaffold different projects and assignments, including collective art installations, lessons on Anti-Black Racism, and helping youth speak directly to their legislators. This workshop is for all educators, but is most relevant to secondary educators in all subject areas.

12/4/21
9:00-10:15 AM

Jordan Jamil Ahmed

Muslim Justice League

Fatuma Mohamed

Council on American-Islamic Relations Massachusetts

Achieving Racial Justice: Islamophobia and Muslim Students

All young people deserve to learn in a safe and supportive environment that celebrates all of their identities. Islamophobia--interpersonal and structural--is a genuine threat to the well-being of our young people. Young Muslims are growing up in a world where they are subjected to bullying and harassment from peers and adults alike, profiled by the state, and constantly bombarded with information within popular culture and school curricula that directly attacks their identities.

This workshop will help teachers understand the relationship between interpersonal and structural Islamophobia and will provide them with the tools and strategies they need to confront it in their classrooms and schools. This workshop will share both a historical overview and current research on topics, including the newly released Massachusetts Muslim Youth Bullying Report, updates on the targeting and criminalization of Muslim students via surveillance programs like Countering Violent Extremism (CVE), and other ways that Islamophobia shows up in schools. In addition to offering action steps and strategies to use in the classroom, this workshop will also provide a safe space to ask questions about Islam, Muslims, and specific scenarios teachers may encounter.

12/4/21
9:00-10:15 AM

Jacquelynne Boivin

Mass State College Association

Responding to Culture: Demystifying Culturally Responsive Pedagogy

Our state has been working to increase its prioritization of racial equity in schools through numerous avenues. Cultural responsiveness in the classroom means that students of all backgrounds, races, ethnicities, and identities feel welcome and that learning feels accessible. We embrace students' backgrounds and beliefs, and the learning environment values sharing what makes each learner who they are. Funds of knowledge are valued and integrated into lessons and classroom dynamics. These are integral steps toward a bias-free school. The educator evaluations for the '21-'22 academic year articulate cultural responsiveness as an "implementation priority." This workshop will bring a level of practicality and envision how cultural responsiveness actually "looks" in the classroom. Participants will define cultural responsiveness, give examples of cultural responsiveness in all sections of the educator evaluation, identify an area of strength and growth when implementing cultural responsiveness when creating a growth plan, and discover and share resources to support developing a culturally responsive learning environment.

12/4/21
10:30-11:45 AM

Allison Butler

Massachusetts Society of Professors

Nolan Higdon

Mass Media Literacy

Culturally responsive news literacy: Applying critical media literacy to news analysis

This interactive workshop applies critical race theory to critical media literacy to build a culturally responsive news literacy curriculum. The workshop starts from the premise that the most cited scholars in media literacy are white. The history of (formal) media literacy instruction and theory-building is primarily through white scholars, a failing in the field. The presenters will connect teachers with the ongoing scholarship that challenges and brings social justice into media literacy. The presenters share a culturally responsive news literacy curriculum that capitalizes on the current moment of interest in news literacy to combat fake news and expand cultural awareness. The presenters acknowledge that white educators-in this case, white media literacy educators-need to step back and learn more about the stories and experiences of people of color to update and make curricula more inclusive. This presentation will be an opportunity to partner with educators to share knowledge of critical media literacy to build progressive, inclusive lessons. There will be opportunities for participants to co-create news-focused lesson plans for their course planning.

12/4/21

10:30-11:45 AM

Tamisha Thompson

Millbury Teachers Association

Building Community with the No Evil Project

The No Evil Project is a nonprofit organization that uses art and humor to challenge stereotypes and help people find commonalities despite their differences. It incorporates identity development and social-emotional learning, which schools seeking to promote and maintain a positive climate and culture can utilize. The Project includes curriculum resources and activities, including themes of identity exploration and anti-bullying, that teachers can bring back to their schools and classrooms and encourage new conversations with colleagues and students. This workshop will take teachers through an introductory lesson and activities, including photos, discussion, and reflection. Come prepared to pose as the three wise monkeys and share your good deeds!

12/4/21
10:30-11:45 AM

Dean Robinson

Massachusetts Society of Professors

Medicare for All and Racial Justice

This workshop explains how a "single-payer" system advances racial health equity. Participants will learn that Medicare and Medicaid were part of the policy package that closed black-white health disparities from the mid-1960s until the election of Ronald Reagan. They will learn how Medicare ended Jim Crow in American medicine. Participants will gain an understanding of how, by "de-commodifying" health insurance, "Medicare for All" advances racial equity in access and saves money for individuals, families, public and private employers.

12/4/21
10:30-11:45 AM

Liz Kleinrock

Keynote by Liz Kleinrock

Liz Kleinrock is an anti-bias anti-racist educator and consultant based in Washington, DC. A transracial adoptee, Liz was born in South Korea and grew up in DC before attending Washington University in St. Louis, MO. After graduating, Liz moved to Oakland, California, where she served as an AmeriCorps teacher with Girls Inc. and Super Stars Literacy for two years. Following her service, Liz moved to Los Angeles, where she attended UCLA's Teacher Education Program, where she earned her M.Ed. After spending a year student teaching a 5th grade class in Watts, Liz joined the founding faculty of a startup school in East Hollywood, where she spent seven years teaching 1st through 4th grades.

In addition to classroom teaching, Liz also works as an anti-bias anti-racist facilitator for schools, organizations, and companies across the country. Her work has gained national recognition through a documentary short produced by Fluid Film and media outlets such as CNN, The Washington Post, NPR, and BBC. In 2018, Liz received Teaching Tolerance's 2018 Award for Excellence in Teaching and currently serves on the Teaching Tolerance Advisory Board. Liz is proud to share her 2019 TED Talk from "Education Everywhere" on building foundations of equity with young learners. She recently released her first book, "Start Here, Start Now: A Guide to Antibias and Antiracist Work in Your School Community," through Heinemann Publishing.

12/4/21
12:00-1:00 PM

EMAC Affinity Groups

Join the members of the Ethnic Minority Affairs Committee and special guests for small-group discussions on some of the most important issues which affect our members today.
12/11/21
9:00-11:00 AM

Candace Shivers

Massachusets Community College Council

MTA BIPOC Leadership 101

This workshop will go over best practices for someone who wants to run for office in their local association/MTA/NEA. The workshop will also cover significant dates and events that a member can run for in the MTA and NEA. 

12/11/21
11:00-12:00 AM
2020
2019
2018
2017
2016
2015
2014
2013
2012