MTA endorses student-led Global Climate Strike movement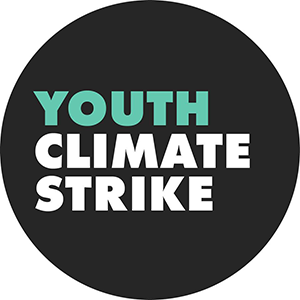 MTA members are gearing up to support the student-led Global Climate Strike on Sept. 20, following an Aug. 4 vote by the MTA Board of Directors to "encourage participation in the climate strike and commend the young people around the globe who are taking leadership on this critical issue." The vote followed a presentation to the Board by students involved in the Sunrise Movement.
"I've come to this work out of a deep concern for what's happening now with the climate," Somerville literacy coach Alex Hershey said during a Sept. 5 Tele-Town Hall on the MTA's role in the action. "I am concerned about what my children and my students will face in the future. One thing that's particularly powerful and unique is that the youth are taking the lead."
"I've come to this work out of a deep concern for what's happening now with the climate,"

Somerville Literacy Coach Alex Hershey
Concerns about the climate have been reinforced this month by images of communities in the Bahamas that were flattened by Hurricane Dorian and an escalating cycle of news stories about unprecedented heat waves, wild weather, droughts and refugee crises — all created or exacerbated by human-caused climate change.
Events
In Boston, the day will begin with tabling and socializing at City Hall Plaza from 10 to 11:30 a.m. A rally with speeches and music will be held there from 11:30 a.m. to 1 p.m., followed by a march to the State House.
Among other actions are a series of events in Western Massachusetts.
The MTA's Legal Services Division encourages members to work with their administrators to organize assemblies, teach-ins or other actions in support of the event. MTA President Merrie Najimy noted that actions can be more powerful if members work together through their local associations and campus chapters to organize activities related to this issue.
Teachers' Toolkit and Suggested Activities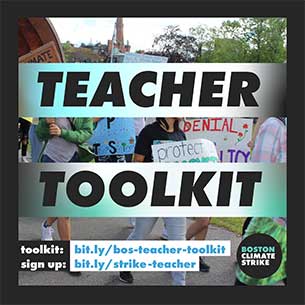 A teachers' toolkit posted by Massachusetts Climate Strike contains several suggestions, including showing videos about climate change or signing a "no major assignment" and "sports exemption" pledge so that students can attend Sept. 20 Global Climate Strike activities without facing academic penalties.
Fall River high school teacher Kurt Ostrow, speaking on the Tele-Town Hall, suggested that educators could hold local standouts before or after school in support of the students, distribute leaflets, or schedule solidarity "walk-ins" on that day. Ostrow and a Fall River science teacher took it a step further, organizing a field trip to the rally. Ostrow tied the request to a district initiative to promote courage, and his principal readily supported the idea.
Similarly, Craig Slatin, a retired UMass Lowell professor, received enthusiastic support when he asked university administrators to supply buses so that students could attend the rally in Boston. He linked his request to a university goal of making sustainability a priority.
Learn more
More information about Global Climate Strike actions can be found at strikewithus.org.
While it may be getting late for most schools and colleges to organize field trips or buses, Ostrow said, educators could consider asking for a personal day to participate.
Najimy, who taught elementary school students in Concord, suggested that educators of young children may want to raise awareness through nature walks.
Sheila Hanley, a retired Randolph teacher who took part in the call, said that educators could reach out to environmental clubs in their schools and nonprofit organizations in their communities that work on this issue.
Some local organizations mentioned on the call were Mothers Out Front, 350 Mass for a Better Future and Extinction Rebellion Massachusetts.