Early Retirement Legislation
LEGISLATIVE PROCESS UPDATE: On March 24, 2022, S.1791 was renamed S.2783 and assigned to the Senate Committee on Ways and Means for further review. This committee is tasked with reviewing legislation related to the finances of the Commonwealth. Importantly, it is not required by any rules to act on this or any other bill on its desk and any major legislation such as this typically requires a roll call vote, which must take place prior to the end of the formal legislative session on July 31, 2022. After that date, a bill can only pass if it has unanimous support in both the House and Senate, as well as the support of the governor.
Changes made by the Joint Committee on Public Service:
New language was added to allow the bill to take effect immediately after passage; normally there is a 90-day waiting period.
New language was added clarifying the IRS limit on the purchase of age credit. It is $61,000 for 2022.
New language was added requiring that participating communities pay 20 percent of the cost.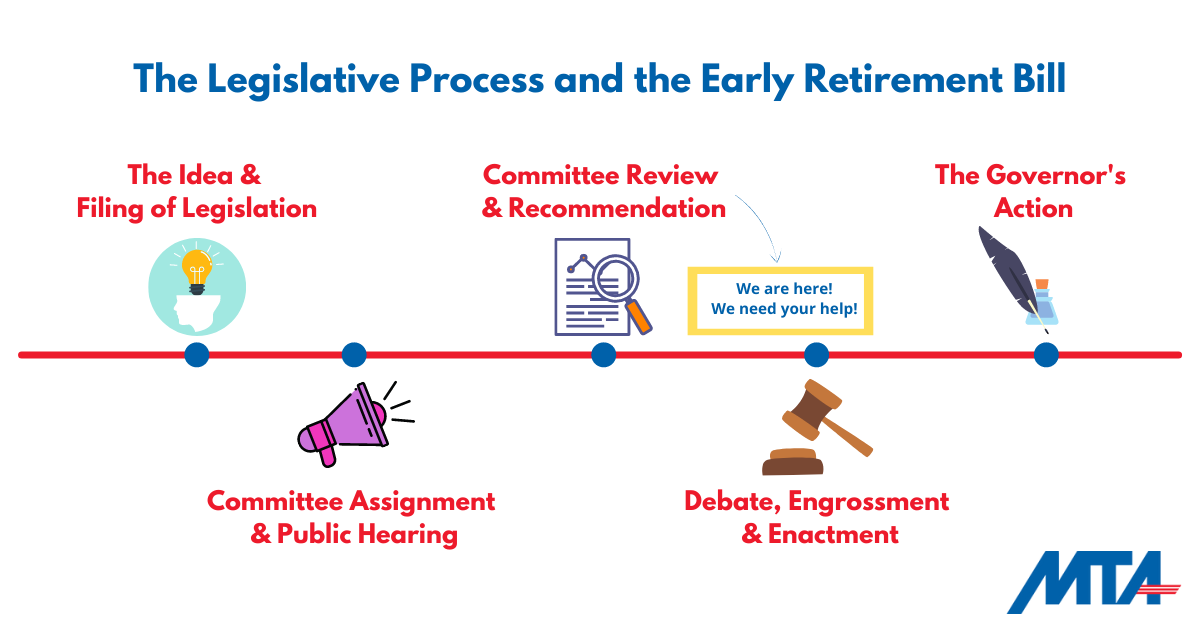 download the process in detail
An Act to provide a retirement enhancement opportunity for certain members of the Massachusetts Teachers' Retirement System
Lead Sponsors: Senator John Velis (D-Westfield) | Representative Carol Doherty (D-Taunton)
Provides eligible MTRS members with an option to purchase up to 5 years of service or up to 5 years of age, or a combination of the two not to exceed a total of 10 years.
This opportunity would be open to MTRS members who agree to purchase their time and retire during the enrollment period.
Mandatory backfill language would be included to avoid teacher shortages.
Webinar on ERI Bill