Fund Our Future Petition Drive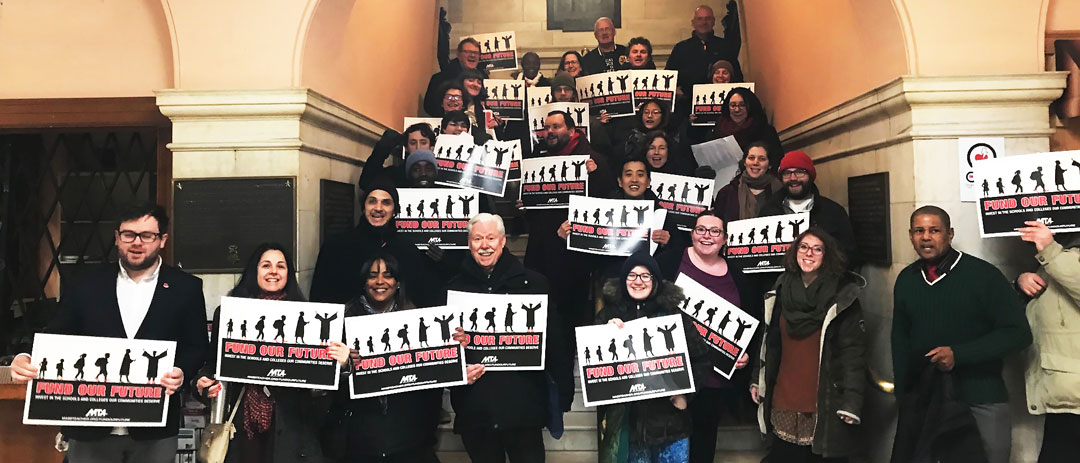 Our students can't wait!  
The MTA and our coalition partners have created the Fund Our Future campaign because all students, no matter where they live, deserve access to a quality public education from preschool through college.
We will file a Fund Our Future bill in January that will increase public education spending by more than $1.5 billion a year by updating the foundation budget formula for public schools (adding more than $1 billion) and bringing public higher education funding levels back to where they were in 2001 (adding more than $500 million).
To raise awareness about this campaign and show support for it across the state, the MTA is asking members to distribute and sign petitions endorsing the Fund Our Future legislation between now and January 15. Here's what we need you to do.
You don't have petitions but you want them. What should you do?
Call your MTA field representative or local president for petition copies.
Call the MTA Grassroots Campaigns Division at (617) 878-8194 and ask for Eric Smith. Let him know what you need.
You've got petitions to sign. Now what?
Get signatures of supportive MTA members in your local. Ask them to sign neatly.
Return the petitions to your MTA field rep or MTA regional office by January 15.
Fund Our Future PetitionFacts About Fund Our Future Legislation
Campaign Resources for MTA Locals & Chapters
Tell us how your school or college would benefit from additional state funding.
Community Forums
Find out when the next Fund Our Future forum is scheduled in your area.
Get bumper stickers, fact sheets, rally signs and more.
Learn more about the bills proposed to increase funding for K-12 and higher education.
A vision of what public education can and should be in Massachusetts.
MTA Vice President Max Page can come to your local to present this campaign overview.