Organizing Tools
Spread the Word With Graphics and Fliers
Memes
We have created district-by-district graphics sized for Facebook that show how much each would receive under the Promise Act. Please post in September with the message: "It's time for the Legislature to fund our future. Pass the Promise and Cherish Acts now!"  On your social media, please link the graphic to the Legislative Action Alert page.
Download
Funding Fliers
We have created district-by-district fliers showing how much each would receive under the  Promise Act. These can be downloaded and distributed at Fund Our Future events and actions.
Download
Campaign Highlights
We have won our first Fund Our Future victory
Find how much state education aid your school district will receive this year
Chapter 70 increases broken down by community.
Because of effective advocacy and organizing by our members, joined by parents and coalition partners, the new state budget approved on Monday, July 22, puts a foundation in place for more equitably funded public schools, particularly in low-income communities. It is our first Fund Our Future victory!
Under the fiscal year 2020 budget, Massachusetts schools will receive $269 million in new Chapter 70 money — the biggest boost in years — based on the recommendations of the Foundation Budget Review Commission.
Thousands rally at Fund Our Future rallies in Boston, Springfield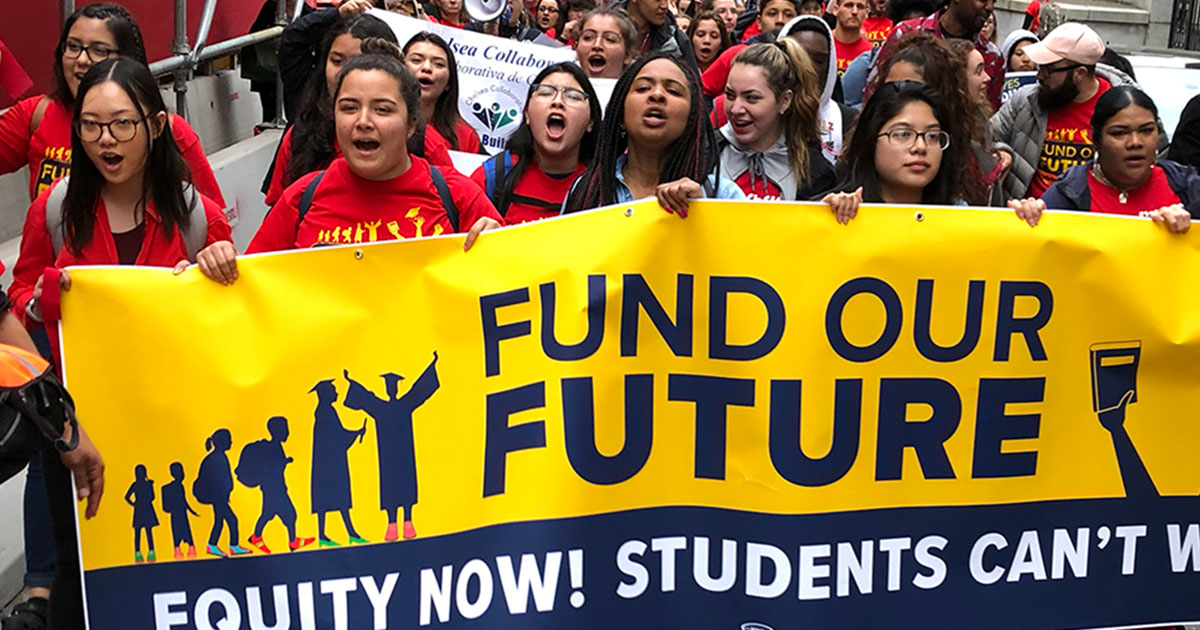 Following an afternoon of political theater and chanting that reverberated through the marbled halls of the State House, more than 3,000 educators, parents and students rallied and marched around the building on May 16, demanding passage of legislation to increase state funding for public schools and colleges by more than $1.5 billion a year.
Similar rallies were held in Springfield and Pittsfield, bringing together MTA members and other supporters of the Fund Our Future coalition.
What Our Students Are Owed
PreK-12 amounts (shown in red) include additional Chapter 70 aid each district might receive in fiscal year 2026 under the Promise Act (H.586/S.238), assuming the Act is phased in over the FY20-FY26 period. Higher Education amounts (displayed in blue) show how much the appropriation for each public higher education campus might increase under the Cherish Act (H.1214/S.741), which would restore appropriations to the level reached in FY 2001.
Methodology Behind PreK-12 Funding

Methodology Behind Higher Ed Funding
Funding Facts
PreK-12 Funding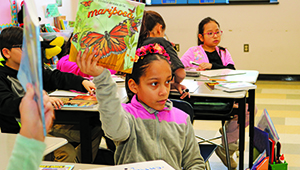 The state is underfunding our schools by more than $1 billion a year.
Get the Facts
Higher Education Funding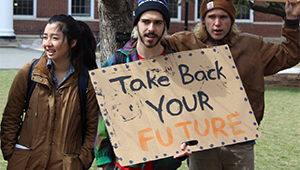 Aid for public colleges & universities is down by more than $500 million annually.
Learn more
"Education is the most precious resource in a democracy. Together we can take back our schools and colleges."

Massachusetts Teachers Assocation President Merrie Najimy