Life amid coronavirus: How we're coping
'When there are needs, people step up'
MTA Retired Members Committee Chair Jacqueline Gorrie reached out to MTA retirees and asked them to share their thoughts and stories about life amid the COVID-19 pandemic. Here is a sampling of their responses — edited for length and style — that also includes their former local affiliations.
Click here for stories shared by active MTA members.
Cynthia Francis, New Bedford:
Mom and I have finished more than 75 masks and they are all going to people who will need them. We work together. She cuts and assembles while I sew. At 98, she does all this by feel mostly because she is legally blind. She tells me stories about how she tore up bedsheets and pillowcases to roll bandages for the WWII war effort. When there are needs, people step up. Thank you to all those who are taking care of us. Back to work. More masks to make.
Joan Indio, Fairhaven:
I am the one who collects family pictures. I decided to make albums for each of my three children. It took me weeks to gather all that I had. I inherited my parents' memorabilia as well. It will take weeks to organize three baskets for each album. We have a habit of putting off for tomorrow what we should do today. Well, tomorrow is here!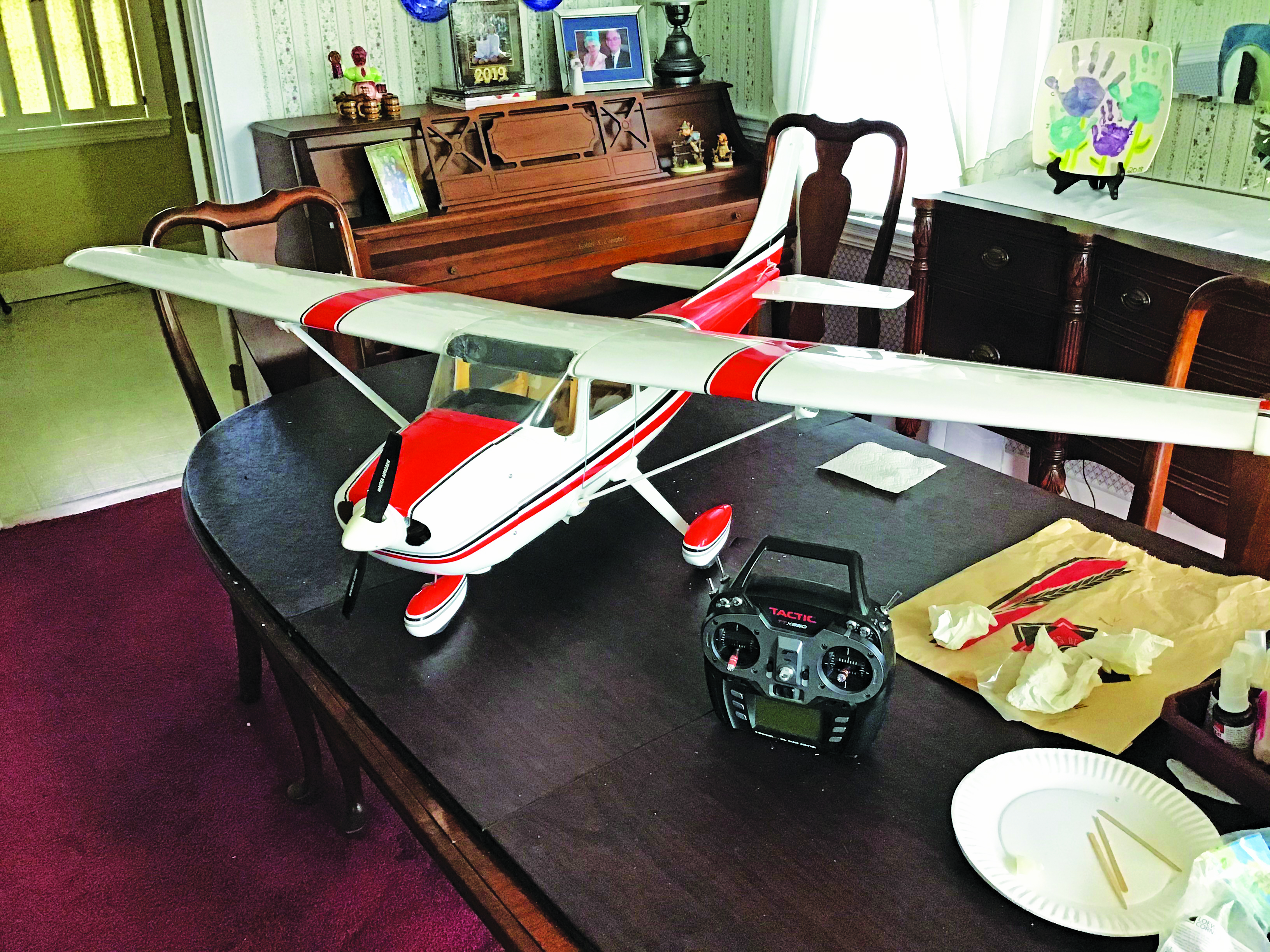 Joe O'Sullivan, Brockton:
I spent 30 hours completing a four-channel, electric-powered Cessna 182 radio-controlled model airplane! The backstory is that my friend's dad started it 20 years ago, became ill and passed away a few years ago. His son, David Lynch, gave it to me when Gregory Gervais, my former BEA vice president, and I were helping to clean out the garage four years ago. It sat on my workbench from then until now! Turned out to be a bigger project than I estimated, converting the already installed fuel-powered system to electric power as well as installing a new radio system. Looking forward to a maiden flight. Great therapy!!
Katey Swanson, Canton:
I've been sewing medical masks for Norwood Hospital and the Walpole-Natick Visiting Nurses Association. I started my teaching career as a home economics teacher. As a result of Proposition 2½, "home ec" was considered a nonessential course for middle school and high school students and was reduced in many Massachusetts school districts. With the introduction of education reform and MCAS testing, family and consumer sciences (the new name for home ec) was just about eliminated. I transitioned into teaching health during the last 15 years of teaching and retired in 2016. While many educators and educational leaders dismissed my subject area as "fluff," I can't help but feel frustrated, angry and helpless with the effects of this pandemic and the demise of home economics.
Judith Wilhelmy, Ayer:
I live on the first floor of a one-building, three-story, 75-unit condominium. A lovely brick pathway meanders around the building, and on sunny days many residents enjoy
a stroll in the fresh air. I love art in its many forms. I have placed artwork in three of my windows and on a stool by my sliding door. I placed an invitation in the lobby inviting others to join me in placing art in any form in their windows. It is my hope that together we can create an "art walk" that will bring joy and pique conversation for our neighbors.
Elaine Koury, Cambridge:
I've been busy every day. I figure that one of the best things I can do for my community right now is stay home and stay healthy. So I have been cleaning out my cellar and learning to play the piano. Luckily, in January I started lessons, so I had the opportunity to have a few in person before social distancing. Now I have a weekly lesson via Zoom. Practice — which I do one to two hours a day — is fascinating. I am learning so much about music while I give my brain and fingers a real workout. In the meantime, I have been hearing from people I haven't seen in years. If it weren't for people getting sick and dying, and our federal government continuing to act ignorantly, this would be a wonderful time.
Patricia J. Crist, Longmeadow:
I retired to North Carolina after 44 years as a teacher, the last 21 in Longmeadow. Over the years, to de-stress from never feeling caught up between school, family and volunteer obligations, I would make bread. No bread machine, everything by hand. It takes all day, but there is time to do mundane things during any of the three risings. When the bread is done and I have four loaves of fragrant, warm bread lined up on the counter, there is a feeling of satisfaction, of creating and finishing something. During our "shelter-in-place" time, I decided to make bread and give it to neighbors, especially after seeing empty bread shelves during infrequent shopping trips. I call ahead and leave the bread on the porch so as not to violate social distancing. Now I have branched out to elderly members of my church, my water aerobics classmates (the Y is closed), etc. The folks who get the bread seem pleased. This morning, one 86-year-old lady from church hugged hers like a baby. I realize this is a small contribution, but it gives me pleasure to bake and share the bread.
Sue Wallace, Framingham:
To begin, I had no idea how bad this was or how bad it would get, especially among older people. Since I'm somewhat physically fit at 76 with no major health issues, I was quite able to continue my five-mile walk each day and even walk with a few other people. My grandchildren happen to live far away. One is in California at Berkeley and in the midst of midterms, so as of now he has been unable to find a safe means of transportation to get home to Virginia. His family of two brothers and mom and dad are in Virginia. My other son lives in North Carolina and has two sons. One is 4 and one is 8. My son works for the Durham Bulls baseball team and was able to work at home and take care of the two boys. After a day and a half, he sent me some pictures of them at home and this message: "Teachers deserve to be paid $50,000,000 per day!!!!!" I'll never be "just a teacher" to him!